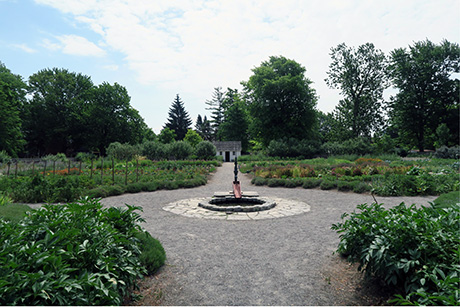 Restored kitchen garden at Hamilton's Dundurn Castle National Historic Site.
September 2016 - Resources
Agnoletti, M. (edited by), The Conservation of Cultural Landscapes, CABI Publishing, 2006.
Alanen, Arnold R. and Robert Z. Melnick, editors. Preserving Cultural Landscapes in America. Johns Hopkins University Press, 2000.
Andrews, Thomas D. et.al, "Permafrost Thaw and Aboriginal Cultural Landscapes in the Gwich'in Region, Canada," in APT Bulletin, Journal of Preservation Technology, 47:1, 2016, 15-22.
Bluestone, Daniel. Building Landscape and Memory: Case Studies in Historic Preservation. W.W. Norton, New York, 2011.
Connecting Practice Project: Final Report, IUCN, ICOMOS, The Christensen Fund, Swiss Confederation, Federal Agency for Nature Conservation, 2015.
George Wright Forum. The Journal of the George Wright Society. Special issue: Landscape stewardship. New directions in conservation of nature and culture. Volume 17, No. 1, 2000.
Longstreth, Richard, editor. Cultural Landscapes: Balancing Nature and Heritage in Preservation Practice. University of Minnesota. Minneapolis, 2008.
Melnick, Robert Z. "Climate Change and Landscape Preservation: A Twenty-First-Century Conundrum." APT Bulletin 40, no. 3/4 (2009): 35-42.
Mitchell, Nora and Robert Z. Melnick, "Shifting Paradigms: New directions in cultural landscape conservation for a twenty-first-century America," in Managing Cultural Landscapes, editors Ken Taylor and Jane L. Lennon, Routledge, New York, 2012, p 232-252.
Rossler, M.: Applying authenticity to cultural landscapes. APT Bulletin, The Journal of Preservation Technology, Vol. XXXIX, Number 2-3, 2008, 47-52.
Taylor, Ken, editor. Conserving Cultural Landscapes: Challenges and New Directions. Australian National University, Australia; Archer St. Clair, Rutgers University, USA; and Nora J. Mitchell, University of Vermont, USA. Published as part of the series Routledge Studies in Heritage, 2014.
Williams, Ron. Landscape Architecture in Canada. McGill University Press. Kingston/Montreal, 2014.
---
International documents and studies
Handbook on the conservation and management of cultural landscapes
The Challenge of Conservation (article), World Heritage, 2002
International Scientific Committee on Cultural Landscapes (ISCCL)
ICOMOS Canada – National Conversation on Cultural Landscape (NCCL) Initiative

The European Council developed a landscape convention in Florence, Italy in February 2000

The Government of Australia's work on protecting Aboriginal landscapes, traditions and artifacts is of particular note. This background paper provides an excellent overview.

ICOMOS Australia

Forestry and our Cultural Heritage. Proceedings of the Seminar 13-15 June 2005, Sunne Sweden. Joint FAO/FCE/ILO Experts Network to Implement Sustainable Forest Management. Swedish Forest Agency/Ministerial Conference on Forests Europe, Warsaw 2006.
United States National Park Service
Brown, J., Mitchell, N., and Beresford, M. (eds.), The Protected Landscape Approach: Linking Nature, Culture and Community. IUCN World Commission on Protected Areas, IUCN: Gland, Switzerland and Cambridge 2005.
Association for Preservation Technology International Bulletin, Volume XLVII, No. 2-3, Special issue on cultural landscapes: A tribute to Susan Buggey, 2016.
Canadian documents
The Canadian Register of Historic Places
Parks Canada – Definition of Aboriginal Cultural Landscape
The Canadian National Capital Commission Policy document on cultural landscapes provides a system for evaluation
Ontario Heritage Trust Cultural Heritage Landscapes information sheet
Canadian Association of Heritage Professionals Forum Newsletter on Cultural Landscapes, Summer Issue 2015, volumes I and II:
http://cahp-acecp.ca/wp-content/uploads/2015/08/CAHP-Summer-Issue-v.1-eforum.pdf
http://cahp-acecp.ca/wp-content/uploads/2015/08/CAHP-Summer-Issue-v.2-eforum.pdf
Municipal studies/documents
The Town of Caledon cultural landscape study has been well received and has influenced work done by other rural communities in southern Ontario.

Cultural Heritage Landscapes Strategy – Town of Oakville

Regional Implementation Guide for Cultural Heritage Landscape Conservation – Region of Waterloo
Cultural Heritage Landscape Resource document – Region of Waterloo 2004