Learn more about the 2023 artists in residence
The Ontario Heritage Trust is committed to respecting how artists choose to identify themselves and recognizes these as deeply personal decisions. These artist bios are written by the artists in their own words.
---
Sonali Menezes (she/her) – interdisciplinary artist, Hamilton, Ontario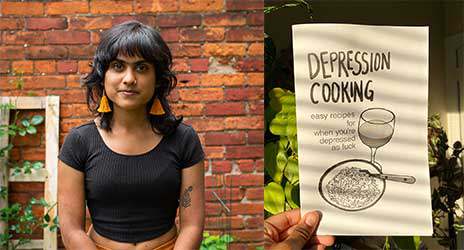 Sonali Menezes is an interdisciplinary artist based in Hamilton. She tries her best to eat three meals a day and is the youngest of triplets. Her work spans many media with a recent focus on video, printmaking and zines. Menezes' cookbook zine, Depression Cooking, won the Broken Pencil Magazine Zine Award for best infozine in 2022. In 2019, she was the recipient of the City of Hamilton's Emerging Artist Award in Media Arts. Right now, she is obsessed with food. During her residency at Fool's Paradise, she will work on a project relating to mangoes. Sonali-menezes.com

---
Ariel Gordon (she/her) – writer, Winnipeg, Manitoba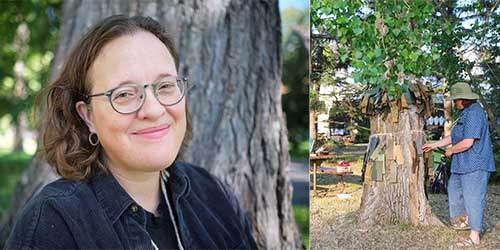 Ariel Gordon is a Winnipeg/Treaty 1 territory-based writer, editor and enthusiast. She is the ringleader of Writes of Spring, a National Poetry Month project with the Winnipeg International Writers Festival that appears in the Winnipeg Free Press. In 2019, Wolsak & Wynn published Treed: Walking in Canada's Urban Forests, a collection of essays that combines science writing and the personal essay. It received an honourable mention for the 2020 Alanna Bondar Memorial Book Prize for the Environmental Humanities and Creative Writing and was shortlisted for the Carol Shields Winnipeg Book Award. Her latest book is TreeTalk (At Bay Press, fall 2020), a public poetry project where Ariel hangs poems in trees and asks passersby to add their thoughts, ideas and secrets. TreeTalk was nominated for three Manitoba Book Awards. In 2022, Gordon's previous residencies included the University of Manitoba's Centre for Creative Writing and Oral Culture, the Winnipeg Folk Festival's Prairie Outdoor Exhibition and the Al Purdy A-frame in Prince Edward County, Ontario. Arielgordon.ca

---
Erika DeFreitas (she/her) – multidisciplinary artist, Toronto, Ontario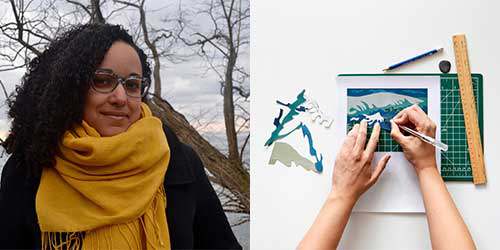 Erika DeFreitas' multidisciplinary practice includes performance, photography, video, installation, textiles, drawing and writing. Placing emphasis on gesture, process, the body, documentation and paranormal phenomena, DeFreitas mines concepts of loss, post-memory, legacy and objecthood. Her work has been exhibited nationally and internationally, including: Kitchener-Waterloo Art Gallery, Platform Centre for Photographic and Digital Arts, Winnipeg, Gallery TPW, Toronto, Project Row Houses and the Museum of African American Culture, Houston, Fort Worth Contemporary Arts, and Ulrich Museum of Art, Wichita. She is a recipient of the 2016 Toronto Friends of the Visual Arts Artist Prize Finalist and the 2016 John Hartman Award. She was also longlisted for the 2017 Sobey Art Award. DeFreitas holds a Master of Visual Studies from the University of Toronto. Erikadefreitas.com
---
Kate Finegan (she/her) – writer, Battleford, Saskatchewan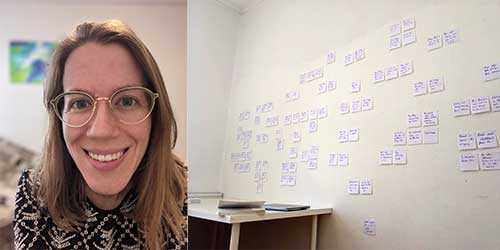 Kate Finegan is a fiction writer whose work has been supported by SK Arts, Access Copyright Foundation, Canada Council for the Arts, Ontario Arts Council and Toronto Arts Council. She was awarded the inaugural Wallace Stegner House/Saskatchewan Writers' Guild Writer in Residence Sponsorship Residency, a residency at Kunstnarhuset Messen in Ålvik, Norway, and a scholarship to study with Danielle Evans at the Minnesota Northwoods Writers Conference. She is a novel/novella editor and marketing director for Split/Lip Press. Finegan won PRISM International's 2020 Jacob Zilber Prize for short fiction, as selected by Kristen Arnett. She was also awarded The Fiddlehead's 2017 fiction prize for a story that judge Rabindranath Maharaj called "pitch perfect" in its balance of "humour and pathos." She was runner-up for The Puritan's Thomas Morton Memorial Prize for a story featuring chickens that, according to judge Heather O'Neill, "have the personality and depth of Dickensian characters." Finegan grew up in Tennessee and recently moved from Toronto to Saskatchewan with her spouse and two cats. katefinegan.ink

---
Lisa Cristinzo (she/her) – painter and installation artist, Toronto, Ontario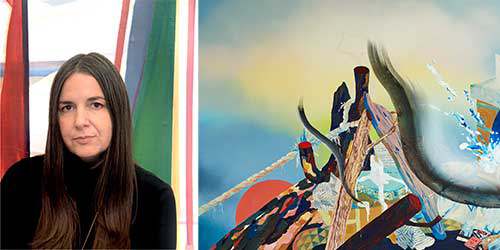 Lisa Cristinzo is a queer painter and installation artist, and a first-generation Canadian settler living in T'karonto on Turtle Island. Cristinzo's large-scale painting installations traverse natural history, climate hazards, materialism and magic. She holds a Bachelor of Fine Arts from OCAD University and an Master of Fine Arts from York University, where she received a graduate scholarship and Social Sciences and Humanities Research Council funding for her research into fire and climate change. Cristinzo's writing and artwork about fire was recently published in Fire Season II by Liz Tooney-Wiese and Amory Abbott. Along with being an artist, she has spent over a decade managing arts programs and community cultural hubs, including Artscape Gibraltar Point, an artist residency and event space on Mnisiing/Toronto Island.
While completing a Master's degree, a medical diagnosis prompted Cristinzo to conduct her work beyond academic and medical institutions to get outside and paint. Through a Canada Council for the Arts research-creation grant, she spent 60 days at four artist residences, including a residency at Vermont Studio Center where she explored the tradition of "en plein air" painting through the lens of climate change. In June 2023, she will be facilitating a thematic residency based on her experience at these residencies, called "i made it through the wilderness," at Artscape Gibraltar Point. www.lisacristinzo.com
---
Bonnie Whitehall (she/her) – multimedia artist, Toronto, Ontario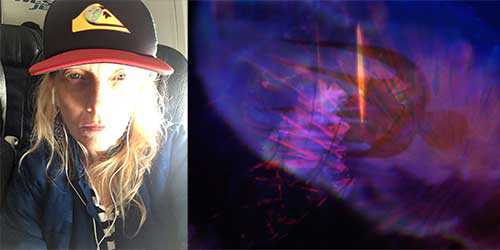 Bonnie Whitehall is a multimedia artist based in Toronto. She holds an Master of Fine Arts in Documentary Media filmmaking (Toronto Metropolitan University), an Master of Arts in Art History (University of Toronto) and a Bachelor of Education (York University). Her creative practice explores a range of subjects that study the affect and care ethics in human and animal relations, women's bodies, feminist writing, family archives, astronomy and the possibilities of an epistemic shift towards a female-driven future vision. Whitehall's film work intersects fiction, documentary and experimental forms of filmmaking. Her practice is a combination of process-based research creation and collaboration. She has been making films and photo-based works with artist Judd Brucke since 2014 under the collaborative name Whitehall + Brucke. She plays with feminist collage, archival footage and home movies to compose her esthetic style in film, and uses found objects, material, antiques and ephemera in her mixed-media textile and sculptural work. Whitehall is open to exploring various approaches and strategies to make compelling work to invite her viewers into the world of shared experience, vulnerability and alternate realities. Her work is DIY. And her interest is interdisciplinary. bonniewhitehall.com