Learn more about the 2022 artists in residence
The Ontario Heritage Trust is committed to respecting how artists choose to identify themselves and recognizes these as deeply personal decisions. These artist bios are written by the artists in their own words.
---
Tong (Raine) Shen – multi-disciplinary artist, Vancouver, British Columbia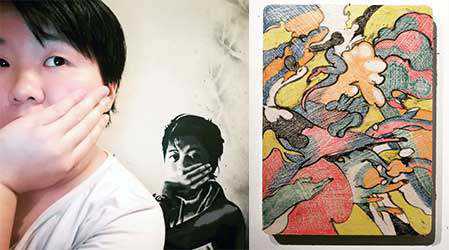 Tong (Raine) Shen (she/her) is a contemporary artist living in Canada. Her father was a child soldier in the Ten Year Revolution and the Great Leap Forward in China, her mother worked in a cotton spinning factory, and her grandparents were professors of agriculture in Shandong Provincial University, while her other grandparents were a farmer and factory worker in rural China.
Shen's art was born of uprising and conflict, and delves into the interconnectedness of individuals through history, art, technology, literature, politics and labour. In her work, she explores solutions to the modern dilemmas of global warming, racial injustice, social and financial divide, colonialism, slave labour, gender equality and the role of AI technology.
Shen is the recipient of numerous awards, including the Canada Council for the Arts Research and Creation Fund, the Dale and Nick Tedeschi Graduate Studio Arts Fellowship, and the Royal Canadian Academy of Arts Scholarship. Her works have been shown in China, Japan, the United States and Canada. She was a tree planter in rural Canada for three years and obtained her Master of Fine Arts degree from Concordia University. https://tongshen.ca

---
Rebecca Roher – cartoonist, Toronto, Ontario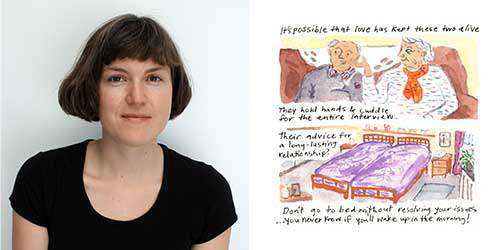 Rebecca Roher (she/her) is a Toronto-based cartoonist and educator. Her first graphic novel, Bird in a Cage, was published with Conundrum Press in 2017 and won the Doug Wright Award for best book at the Toronto Comic Arts Festival. Her comic, Mom Body, went viral in 2015 and was nominated for an Ignatz Award for best web comic at the Small Press Expo in Bethesda, Maryland.
Roher is a contributor to The Nib, Taddle Creek Magazine, CBC Arts and Bitch Media, among other publications. She has received numerous grants from the Canada Council for the Arts, Ontario Arts Council, Nova Scotia Community Culture and Heritage and the Toronto Arts Council. Roher teaches comics at Nova Scotia College of Art and Design University.
She is currently working on a graphic novel based on interviews with near-100-year-olds about aging and longevity, set to be published with Drawn & Quarterly in 2023. www.RebeccaRoher.com

---
Luce Dumont – visual artist and printmaker, Saint-Fabien, Quebec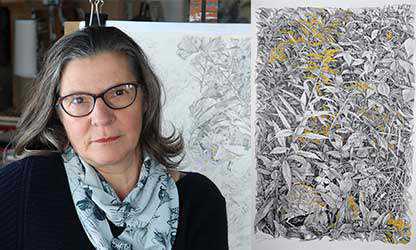 Luce Dumont (she/her), visual artist and printmaker, lives near Rimouski, Quebec. Formerly trained as a botanist, she holds a bachelor's degree in Fine Arts (from Laval University), and a master's short program in the study of the artistic practice (from the University of Quebec at Rimouski). Driven by a sense of challenge and curiosity, she resorts to representations of nature as metaphors of human realities. Her practice in drawing and etching embodies her ecological as well as esthetical considerations, and focuses on such notions as duality between life/death, and silence/revolt. Her work has been presented in solo or group exhibitions in Quebec, Manitoba, New Brunswick and Scotland. www.lucedumont.com
---
Lamis Haggag – multimedia and visual artist, Toronto, Ontario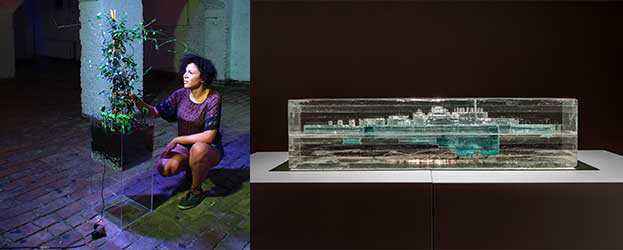 Lamis Haggag (she/her) is an Egyptian multimedia and visual artist living and working in Toronto since 2016. She received her Master of Fine Arts degree from the University of Calgary (2013) and her Bachelor of Fine Arts degree from Helwan University, Cairo (2008). She participated in exhibitions and residencies in Toronto, Montreal, Calgary, St. Thomas (Ontario), Cairo, Beijing, Dakar, Lagos, Berlin and Incheon (South Korea).
Haggag's practice is an ongoing process of attempting to disturb social autonomy and displacing boundaries, without giving alternatives. She perceives her projects as subtle infiltrations to social confines. Aware of the fact that those attempts are contradicting themselves and absurd in many ways, she sees them as a reflection of how people cope with restrictions.
On her move to Canada, Haggag noticed patterns of immigrants attempting to blend in the western context. Since then, she has been focusing her research on difficulties that usually go unnoticed in the process of integration. She worked with notions such as seasonal depression and the different thinking processes of English as a Second Language people in Canada, with a focus on Arabic speakers and Arabic syntax. www.lamishaggag.com

---
Ryan McKenna – filmmaker, Montreal, Quebec

Ryan McKenna (he/him) is a Canadian filmmaker known for his visual comedy and deadpan humour. His feature films include The First Winter (2012), Le coeur de madame Sabali (2015) (recipient of Grand Prix at Montreal's Festival de Nouveau Cinema), Cranks (2019), and award-winning shorts Bon Voyage (2009) and Chinatown (2009).
After graduating from University of Winnipeg in 2005, McKenna became a member of the Winnipeg Film Group, during which he was a contributor to the art collective L'Atelier Nationale du Manitoba, and collaborated with Guy Maddin on My Winnipeg (2007). He's worked as an editor on numerous documentary television programs for CBC, APTN, Historia TV and Bell MTS, directed two television documentaries, as well as experimental shorts Four-Mile Creek (2014) and Controversies (2014).
McKenna's works have screened across Canada and worldwide, including the Hot Docs Canadian International Documentary Festival, MoMA's Festival of International Nonfiction Film and Media, and the Moscow International Film Festival. His most recent short documentary Voices of Kidnapping (2017) was nominated for a Canadian Screen Award, long-listed for the Academy Awards, and is currently available on the Criterion Channel. www.ryanmckenna1.com
---
Em Dial – poet, Toronto, Ontario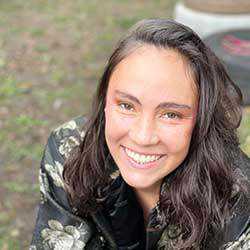 Em Dial (she/they) is a queer, non-binary, multiracial, chronically ill grower, poet and educator. They were born and raised on Ohlone lands, in what is currently known as the San Francisco Bay Area in California. Their work plays against the idea of the (un)natural, with words and seeds rooted in histories of resistance and nourished by communities of care.
In addition to working with organizations like CommunityGrows and Black Creek Community Farm to increase access to growing space and food sovereignty, Dial is also a 2022 Kundiman Fellow and a recipient of the 2020 PEN Canada New Voices Award and the 2019 Mary C. Mohr Poetry Award. www.em-dial.com