Green Porno Live on Stage
Friday, June 6, 2014 at 8 p.m.
Saturday, June 7, 2014 at 8 p.m.
Sunday, June 8, 2014 at 2 p.m.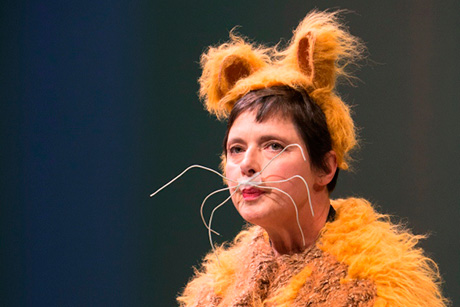 Isabella Rossellini in Green Porno Live on Stage. (Photo: Mario del Curto)
Imagine the art of seduction on an arthropodan or elephantine scale. Such is the orgasmic, orgiastic and occasionally acrobatic bent of internationally acclaimed actress Isabella Rossellini's vibrant invasion of zoological boudoirs based on her short Green Porno films for the Sundance Channel. A lifelong lover of animals , Rossellini dons costume versions of their fur, skin, scales and wings for this delightfully insightful, DayGlo examination of the quirks, curiosities and frequently fatal risks of sexuality and reproduction across a spectrum of species.
Tickets: $45, $65, $75, $85
For more information, call Ticketmaster at 1-855-622-ARTS (2787) or visit www.ticketmaster.ca, or buy them at the Elgin and Winter Garden Theatre Centre box office (Tuesday to Saturday, 11 a.m. to 5 p.m., or until show time on performance days; closed Sunday and Monday).
Location:
Winter Garden Theatre
189 Yonge Street
Toronto, Ontario