Landed: Together in Canada
May 29 to June 29, 2014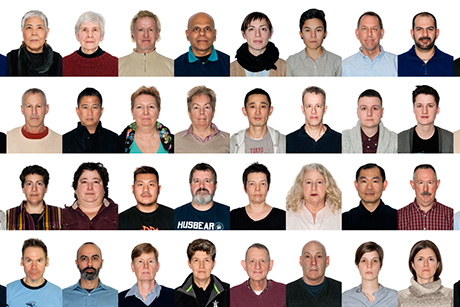 Photo: Sarah Foy
The second exhibition of the RBC Emerging Artist Project features the photography of Sarah Foy, Master student from Ryerson's Image Arts faculty. Landed: Together in Canada is a multimedia installation that tells stories of same-sex binational couples who immigrated to Canada because they could not freely live together in the United States. The project explores how these couples struggled to stay together, how they decided to come to Canada, and how recent changes in American law may (or may not) affect their plans for the future.
Admission:
Free
Hours:
Thursday, May 29 to Thursday, June 19, 2014 – Thursday, Friday and Saturday from 11 a.m. to 3 p.m.
Special dates and hours in celebration of World Pride:
Friday, June 20 to Saturday, June 28, 2014 – every day from 1 to 5 p.m.
Sunday, June 29, 2014 – 11 a.m. to 5 p.m.
Location:
Elgin and Winter Garden Theatre Centre
189 Yonge Street
RBC Emerging Artists Project, Gallery Level
Toronto, Ontario
Note: The Gallery Level is not mobility-device accessible.