Black History Month at the St. Catharines Museum
February 1, 8, 15 and 22, 2018 at 10 a.m.; February 10 and 24, 2018 at 2 p.m.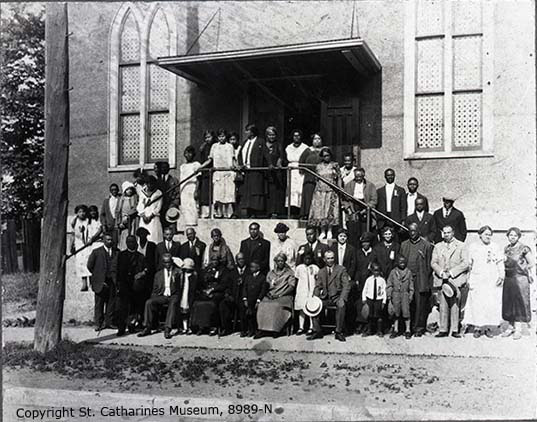 Congregation standing outside of Salem Chapel in St. Catharines, c. 1920s. The British Methodist Episcopal Church has historically served as the hub for the Black community in St. Catharines since 1855. It continues to stand today and is now a National Historic Site. St. Catharines Museum, 8989-N
The St. Catharines Museum & Welland Canals Centre is celebrating Black History Month this February with special guided tours of our award-winning Follow the North Star exhibit! Trace the journey to freedom through a history of slavery and emancipation, racism and prejudice, while exploring the lives of St. Catharines' first African-Canadian settlers.
Tours are open to the general public. Admission by donation. Space is limited.
For more information:
Contact: Sara Nixon
Telephone: 905 984 8880
Email: snixon@stcatharines.ca
Website: www.stcatharines.ca/en/experiencein/MuseumEvents.asp
Location:
St. Catharines Museum & Welland Canals Centre
1932 Welland Canals Parkway
St. Catharines, Ontario