Provincial plaque commemorates the Franco-Ontarian flag
Monday, September 25, 2017 at 10:30 a.m.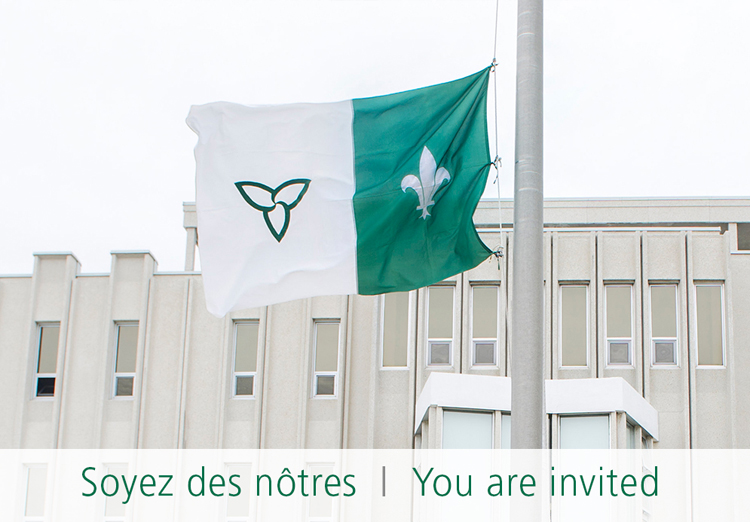 The Franco-Ontarian flag. Image courtesy of the University of Sudbury.
Join the Ontario Heritage Trust, in partnership with the University of Sudbury and l'Association canadienne-française de l'Ontario (ACFO) du grand Sudbury, for the unveiling of a provincial plaque to commemorate the Franco-Ontarian flag. The unveiling is part of an annual flag raising ceremony hosted by the University of Sudbury and ACFO du grand Sudbury to celebrate Franco-Ontarian Day.
Conceived at Laurentian University by historian Gaétan Gervais and student Michel Dupuis and made by Jacline England, the Franco-Ontarian flag was first raised at the University of Sudbury on September 25, 1975. The flag was used as a unifying symbol for the Franco-Ontarian community, and the Ontario Legislature adopted the flag as the official emblem of Franco-Ontarians in 2001.
In 2010, September 25th was proclaimed Franco-Ontarian Day. Today, the flag endures as the most prominent symbol of Ontario's diverse francophone community and represents over 400 years of French presence in Ontario.
The Ontario Heritage Trust's Provincial Plaque Program commemorates significant people, places and events in Ontario's history. Since 1956, over 1,279 provincial plaques have been unveiled.
The Trust gratefully acknowledges the Ontario Office of Francophone Affairs for its assistance and the Department of Canadian Heritage for its financial contribution to the provincial plaques through the Canada-Ontario Agreement on French-Language Services.
Poster [PDF | 897 KB]

Location:
University of Sudbury
935 Ramsey Lake Road
Sudbury, Ontario