Rachel MacFarlane: Fool's Paradise
January 11 to February 3, 2018 (Tuesday to Saturday, 10 a.m. to 6 p.m., or by appointment)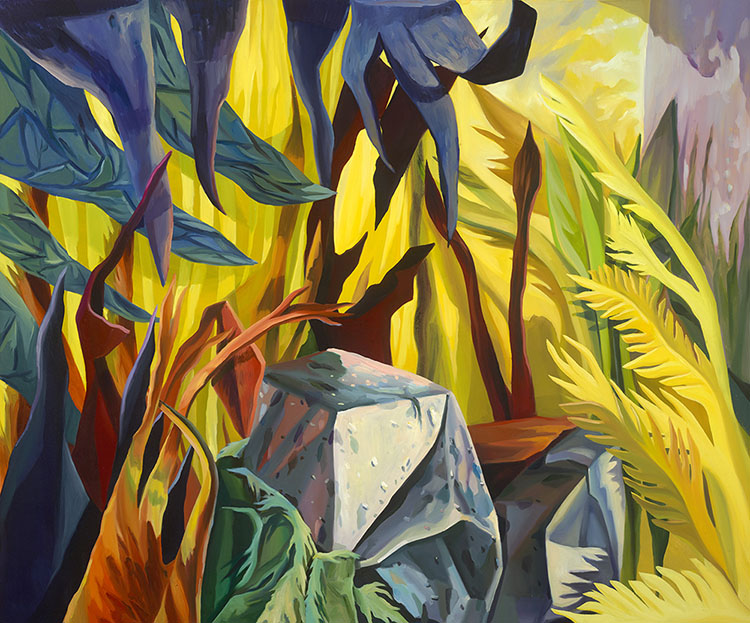 Where the Ferns Speak, by Nottawasaga Bluffs (60 x 72 inches, oil on canvas, 2017)

The Nicholas Metivier Gallery is pleased to announce an exhibition of paintings by Rachel MacFarlane. This is MacFarlane's third solo exhibition at the gallery.
The bold and colourful shapes in her paintings echo the playful abstraction found in the works of Henri Matisse and Georgia O'Keefe.
MacFarlane's paintings operate somewhere between reality and fiction. A recent shift in her work has been the influence of landscape. In 2016, she completed a residency at Doris McCarthy's former home on the Scarborough Bluffs in Toronto, known as Fool's Paradise. This experience – in combination with her previous summers spent working as an advisor at the Banff Centre in Alberta – propelled MacFarlane to contemplate her relationship with the natural world and the history of landscape painting in Canada.

Location:
Nicholas Metivier Gallery
451 King Street West
Toronto, Ontario