Aboriginal Music and Storytelling Workshop at Fulford Place
Fulford Place
Wednesday, July 26, 2017 from 9 to 11:30 a.m
Explore Aboriginal arts and traditions with the Finkle/Leonard clan at Fulford Place! This event is presented as part of the Ontario Heritage Trust's MyOntario – A vision over time, a conversation among Ontarians about our experiences, identities, values and aspirations.

Cost: $20
Registration: Call 613-498-3003, email fulford@heritagetrust.on.ca or register in person at Fulford Place. Registration closes July 21.
This fun, interactive session has performances and activities for the whole family. Make – and play! your own rawhide and birchwood rattle as you learn about Indigenous songs and stories.
David Finkle, of the Tyendinaga Mohawk Territory, is a traditional drum maker and Aboriginal Music Award winner. His partner, Laura Leonard, of Maliseet descent, is a recognized hand-drum singer and craftsperson.

Fulford Place – a National Historic Site – is owned and operated by the Ontario Heritage Trust, an agency of the Government of Ontario dedicated to identifying, preserving, protecting and promoting Ontario's heritage.
Throughout the year, the museum will present MyOntario – A vision over time to mark the long cultural history of what is now Ontario – a history that stretches back more than 10,000 years. Share the places, memories, photos, artifacts, artworks and traditions that inspire you!

For more information, please contact:
Pamela Peacock
Coordinator, Eastern Ontario Museum Sites
Telephone: 613-498-3003
Email: fulford@heritagetrust.on.ca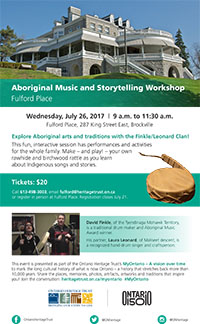 Poster [PDF | 378 KB]

Location:
Fulford Place
287 King Street East
Brockville, Ontario