#BeGoodtotheBadlands this summer
Friday, April 19, 2019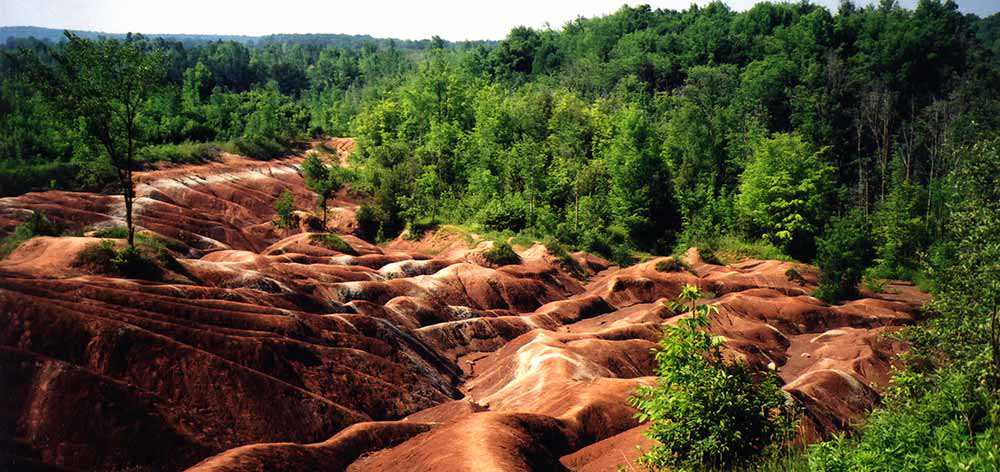 The Ontario Heritage Trust – along with its managing partners, Credit Valley Conservation and Bruce Trail Conservancy – are happy to announce that the Cheltenham Badlands opens for the summer season on April 19.
The Cheltenham Badlands is one of Ontario's geological treasures, first formed at the base of an ancient sea about 450 million years ago. The site is a provincially significant Area of Natural and Scientific Interest and one of the most recognizable and visited natural heritage landmarks in southern Ontario.
Please come to enjoy the view but be sure to park legally in the parking lot or use the shuttle bus service offered from Terra Cotta Conservation Area. All visitors are asked to be good to the Badlands and stay on the trails and boardwalks so that future generations can continue to enjoy this site.

---
Hours of operation: 8 a.m. to 7 p.m. daily
Easter weekend: Shuttle buses will operate from April 19 to 21 from 9:30 a.m. to 4 p.m. from the Terra Cotta Conservation Area (the shuttle fee is included with regular admission to the Terra Cotta Conservation Area).
Location:
1739 Olde Base Line Road
Ingelwood, Ontario