Celebrate Emancipation Day 2020 virtually!
Uncle Tom's Cabin Historic Site
From Monday, July 27 to Saturday, August 1, 2020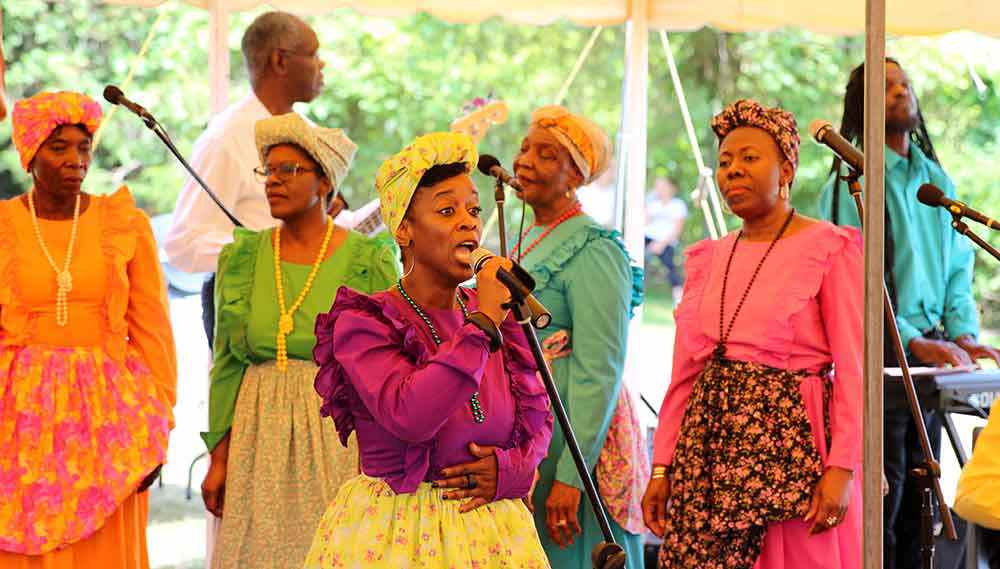 Join the Ontario Heritage Trust and Uncle Tom's Cabin Historic Site virtually to celebrate Emancipation Day!
This year's events include interviews with Natasha Henry (educator, curriculum consultant and President of the Ontario Black History Society), Wanda Thomas Bernard (Canadian senator, social worker and community activist) and Preston Chase (director of the short film Mr. Emancipation). Enjoy musical performances, including The Heritage Singers Canada and the Grineage Family, as well as a tour of Uncle Tom's Cabin Historic Site.
Emancipation Day commemorates the Abolition of Slavery Act, which became law on August 1, 1834. This act freed more than 800,000 people of African descent throughout the British Empire. Since then, Emancipation Day has been celebrated on or near August 1 each year. It is an important expression of identity for the Black community, and a reminder of the continuing struggle faced by people of African descent towards a more inclusive, diverse society.
The day is especially popular in places where refugees from American slavery settled – most notably Sandwich (now Windsor), Toronto, Hamilton and Owen Sound. And, of course, the Dawn Settlement in Dresden celebrates as well. We hope you'll join us!
---
Uncle Tom's Cabin Historic Site commemorates the life of Josiah Henson, a former slave, who escaped to Canada via the Underground Railroad. Henson rose to international fame after Harriet Beecher Stowe acknowledged his memoirs as a source for her novel, Uncle Tom's Cabin. Settling in southwestern Ontario, Henson worked to improve life for the Black community and helped to establish the Dawn Settlement. He would go on to become an internationally recognized abolitionist, preacher and conductor on the Underground Railroad.
---
Schedule:
Today marks the beginning of our #EmancipationDay celebrations and kicking it off is Natasha Henry – an educator, a speaker specializing in the development of learning materials that focus on the African diaspora experience, the author of Emancipation Day: Celebrating Freedom in Canada, and the President of the Ontario Black History Society.
Briar, Jaedin, Reighen, Teiren and Dahsin Grineage come from a musically gifted family, with roots from the Underground Railroad.
Emma Ferreira is a Dominican-Canadian artist, actor, poet and curious cat. Her work explores what she is and wants to see more of – perspectives that have been pushed to the periphery, ones that are radical, truthful and brave. Ferreira is currently working on her first book of poetry and is actualizing dreams of arts education reform for her community.

Check out the Heritage Singers Canada – a Caribbean folk group consisting of 22 members from Canada and the Caribbean. The group was founded in 1977 by musical director Grace Lyons. For the past 40 years, they have promoted and preserved Caribbean folklore through their music.

Dr. Wanda Thomas Bernard is a highly regarded social worker, educator, researcher, community activist and advocate for social change. She is an Independent Senator representing Nova Scotia (East Preston) and is a founding member of the Association of Black Social Workers (ABSW), which helps address the needs of marginalized citizens, especially those of African descent. She was the recipient of the Order of Canada in 2005.
Mr. Emancipation is a short documentary about Walter Perry, who created the 1931 Emancipation Day celebration in Windsor, Ontario. Dubbed "The Greatest Freedom Show on Earth," this annual international event drew huge crowds who came to see the parade, exhibits, speakers and beauty contest. In this video, we speak with the film's director – Preston Chase – a seventh-generation African-Canadian born in Windsor.
---
Stay tuned to our social media channels for more information!