Unveiling of a provincial plaque commemorating Dr. James Bertram Collip
Thursday, June 19, 2014 at 1:30 p.m.
Join the Ontario Heritage Trust and the Dr. James B. Collip Recognition Committee for the unveiling of a provincial plaque commemorating Dr. James Bertram Collip.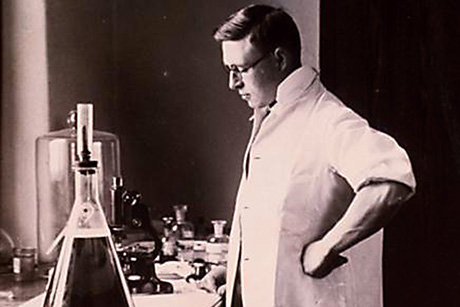 J.B. Collip in a laboratory, circa 1927. Photo: The Thomas Fisher Rare Book Library, University of Toronto. P10014, Collip Collection.
A co-discoverer of insulin, J.B. (Bert) Collip was one of Canada's most prolific medical researchers in the first half of the 20th century. In 1922, Collip produced the first insulin suitable for use on human beings, an essential contribution to a treatment that has since saved millions of lives. The plaque will be permanently installed in front of the Belleville Public Library, at the corner of Pinnacle Street and Campbell Street in Belleville.
The Ontario Heritage Trust's
Provincial Plaque Program
commemorates provincially significant people, places and events in Ontario's history. Since 1956, over 1,200 provincial plaques have been unveiled.
Directions:
Highway 401 East or West: Take exit for ON-62 S (becomes North Front Street at Belleville). Follow North Front Street, continue on Pinnacle Street for 500 metres (1,640 feet). Belleville Public Library and John M. Parrott Art Gallery are on the right.
For more information:
Niya Bajaj
Senior Marketing and Communications Specialist
Telephone: 416-325-5074
Email: niya.bajaj@heritagetrust.on.ca
Location:
Belleville Public Library and John M. Parrott Art Gallery
3rd floor, 254 Pinnacle Street
Belleville, Ontario