Heritage Week 2014 launch
The Ontario Heritage Trust cordially invites you to celebrate
Heritage Week 2014
Remembering the First World War: Ontario in transition

Friday, February 14, 2014
Canadian Forces Base (CFB) Borden, Juno Beach Mess
12:30 p.m. – Heritage Expo
1:30 p.m. – Remarks and presentations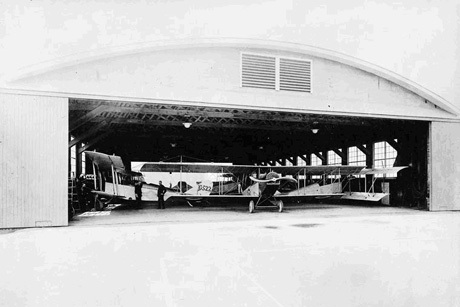 R.F.C. Canada. Curtiss J.N.-4's in Hangar, School of Aerial Gunnery, Camp Borden, 1917. Photo: Canada. Dept. of National Defence/Library and Archives Canada / PA-022869
Reception and refreshments to follow the remarks and presentations, with time to visit the Heritage Expo and Base Borden Military Museum. The Royal Canadian Air Force Museum, located in a nearby 1917 aircraft hangar, will also be open for self-guided tours.

This year's theme – Remembering the First World War: Ontario in Transition – explores the social and political situation in Ontario at the outbreak of conflict in 1914. The event will feature a Heritage Expo of local heritage organizations, as well as opportunities for visitors to tour Base Borden Military Museum and the Royal Canadian Air Force Museum, located in a nearby 1917 aircraft hangar.

Heritage Week – which runs from February 17 to 23 this year – is an annual celebration of Ontario's rich history, providing an opportunity to recognize the important work of heritage organizations and volunteers across the province. Many communities are hosting their own special events and activities, including exhibits, lectures, workshops, informal gatherings and tours.

Please RSVP online by February 7, 2014 if you plan to attend. For more information, call 416-314-3586.
Directions:
Canadian Forces Base (CFB) Borden is accessible via Ortona Road. Once on the Base, continue on Ortona Road. Turn left at Falaise Road. The Juno Beach Mess will be on your left, with parking available in front of the building.

Note: In case of inclement weather, please visit the Trust's website on February 14 for an update on the status of this event.
Find out about more Heritage Week events and activities happening across the province ...
Location:
Canadian Forces Base (CFB) Borden
Juno Beach Mess
201 Falaise Road
Borden, Ontario