The Past is Never Far – Opening reception
Thursday, September 25, 2014 at 6:30 p.m. (doors open at 6 p.m.)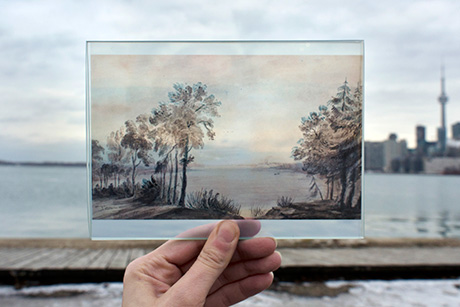 Photo: Summer Leigh
The Past is Never Far is a photographic series that explores the extraordinary changes Toronto has experienced since its founding in the 18th century.
The exhibition brings together the perspectives of three documentarians, Elizabeth Simcoe (1762-1850), William James Sr. (1866-1948) and contemporary photographer Summer Leigh. Though separated by centuries, their works overlap and interact in this stunning series, which explores the relationships between time, place and artistic practice.
The exhibition will run from September 25 to November 1, 2014.
To RSVP, please contact Sam Wesley at
sam.wesley@heritagetrust.on.ca
or call 416-212-8897 for more information.
Location:
Parliament interpretive centre
265 Front Street East
Toronto, Ontario