Summer concerts at Fulford Place
Fulford Place
Wednesdays from July 5 to August 30, 2017, from 12 to 1 p.m.
Find your summer soundtrack at Fulford Place with weekly concerts at noon! Bring your lunch and enjoy nine great performances on the veranda of this Edwardian mansion overlooking the St. Lawrence River. This event is presented as part of the Ontario Heritage Trust's MyOntario – A vision over time, a conversation among Ontarians about our experiences, identities, values and aspirations.

Cost: By donation ($5 recommended)
Performance schedule:
July 5: Sisters of the Drum invite you to experience the ancestral rhythms of the hand drum through traditional Native pieces and original works.
July 12: The Hoolies blend a range of sounds, from guitar and keyboard to bodhrán and Irish whistle, into toe-tapping tunes and beautiful Celtic airs.
July 19: Kingston Classics Trio brings to life your favourite classical, baroque and operatic works. Enjoy timeless music played by Bill Egnatoff (flute), Chris Alfano (flute and clarinet) and Katie Legere (bassoon).
July 26: The Finkle/Leonard Clan present a fun, educational hour of traditional Aboriginal drumming, song and dance. Enjoy performances from drum maker and Aboriginal Music Award winner David Finkle (Tyendinaga Mohawk Territory); Maliseet hand-drum singer and craftsperson Laura Leonard; and their daughter, jingle dress dancer Charmaine Leonard (Peguis First Nations in Manitoba).
August 2: Pat Johnson's guitar-driven folk-rock and acoustic blues are sure to get you into a summer groove.
August 9: The Castle Minstrels take you on a journey through time with a lively mix of Celtic and Canadian old time tunes.
August 16: Sue Baker, a versatile vocalist who recently released her CD "Reminisce," performs jazz standards with Alan Ogborne (keyboards) and Doug Dillon (bass).
August 23: Tony Komery treats audiences to the spellbinding sounds of classical and flamenco guitar.
August 30: Ron Donnelly and the Marlboreens will have you clapping and toe-tapping to their lively mix of country, gospel and oldies rock'n'roll.
Fulford Place – a National Historic Site – is owned and operated by the Ontario Heritage Trust, an agency of the Government of Ontario dedicated to identifying, preserving, protecting and promoting Ontario's heritage.
Throughout the year, the museum will present MyOntario – A vision over time. Share the places, memories, photos, artifacts, artworks and traditions that inspire you! Join the conversation – tell us about a song, concert or musical memory that holds special meaning for you. Share these and other stories and look for special MyOntario activities at Trust sites across the province.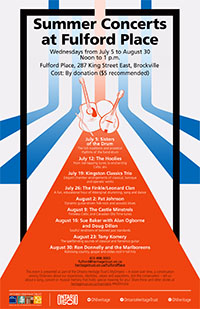 Poster [PDF | 2.3 MB]

Location:
Fulford Place
Veranda (in the event of rain, performances will take place in the Billiards Room)
287 King Street East
Brockville, Ontario