Provincial plaque commemorates naturalist Louise de Kiriline Lawrence
Thursday, August 18, 2016 at 1:30 p.m.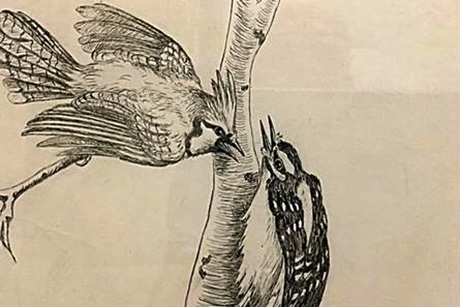 Join the Ontario Heritage Trust, in partnership with the Nipissing Naturalists Club, for the unveiling of a provincial plaque to commemorate naturalist Louise de Kiriline Lawrence.

Louise de Kiriline Lawrence was an early environmentalist and an internationally renowned ornithologist and author. She contributed to our knowledge of North American wildlife through her detailed observation and exhaustive fieldwork.

In 1927, Louise immigrated to Canada and settled in northern Ontario where she was the head nurse to the Dionne Quintuplets in 1934. In 1939, she married Leonard Lawrence; the couple settled on the Mattawa River where they built a log cabin. At this point, she became committed to the naturalist activities that would make her famous.

Throughout a lifetime of careful and patient observation, the self-taught Louise de Kiriline Lawrence wrote over 500 reviews, 17 scientific papers and five books on wildlife; her books remain in print today. A number of honours – including the annual Louise de Kiriline Lawrence Nature Festival organized by the Nipissing Naturalists Club – ensure that her significant work in the field of natural science is remembered.

The Ontario Heritage Trust's Provincial Plaque Program commemorates significant people, places and events in Ontario's history. Since 1956, over 1,270 provincial plaques have been unveiled.
Location:
Bonfield Parish Hall
Ste. Bernadette Parish
408 Gagnon Street
Bonfield, Ontario