Vacation with the Fulfords! Kids' summer day programs at Fulford Place
Fulford Place
Explore Egypt: Thursday, July 6, 2017

Journey to Japan: Thursday, July 20, 2017

Full steam ahead for France: Thursday, August 3, 2017

Embark for India: Thursday, August 17, 2017
Time: 9:30 a.m. to 3:30 p.m.
All aboard! Take a whirlwind world tour with four exciting day programs at Fulford Place. This event is presented as part of the Ontario Heritage Trust's MyOntario – A vision over time, a conversation among Ontarians about our experiences, identities, values and aspirations.
Age: 7-11
Cost:
One day: $20
Two days: $35
Four days: $60
Registration: Call 613-498-3003 or email fulford@heritagetrust.on.ca. Preregistration is required; space is limited.
Retrace the Fulford family's travels from centuries past! Discover each country's history and culture as you make traditional crafts, sample tasty treats and hear fascinating folklore.
This series takes place at the Fulfords' lavish mansion, filled with artifacts that the family brought home from their journeys around the globe. Fulford Place – a National Historic Site – is owned and operated by the Ontario Heritage Trust, an agency of the Government of Ontario dedicated to identifying, preserving, protecting and promoting Ontario's heritage.

Throughout the year, the museum will present MyOntario – A vision over time. Join the conversation – tell us about your cultural traditions, stories, crafts and recipes! Share these and other stories and look for special MyOntario activities at Trust sites across the province.
For more information, please contact:
Pamela Peacock
Coordinator, Eastern Ontario Museum Sites
Telephone: 613-498-3003
Email: fulford@heritagetrust.on.ca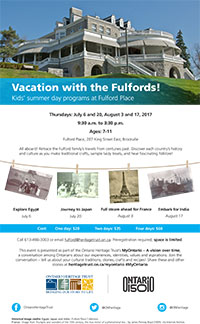 Poster [PDF | 2 MB]

Location:
Fulford Place
287 King Street East
Brockville, Ontario