Huzza for Freedom! Political Cartoons from the War of 1812
From April 2 to September 1, 2014 | Tuesdays through Sundays, 10 a.m. to 4 p.m.
Explore how political cartoons spread news and critique politics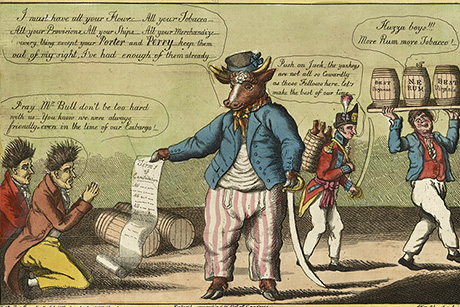 William Charles, Johnny Bull and the Alexandrians. 1814. Courtesy of the Library of Congress.
The Parliament interpretive centre in Toronto has a treat for politics, history, satire and cartoon/graphic fans! Four Masters of Museum Studies students from the University of Toronto have curated an exhibition that explores how the production and consumption of political cartoons during the War of 1812 allowed American citizens and British subjects to exercise their democratic freedoms.

Curated by: Hilary Walker, Keely Bland, Kristie Nairn and Oriana Duinker

Admission is included with entrance to the Parliament interpretive centre.

For more information, contact the Parliament interpretive centre at 416-212-8897, or connect on Facebook or follow us on Twitter @ONHeritage.
Location:
Parliament interpretive centre
265 Front Street East
Toronto, Ontario