Biographies
Meet the Vice Chair

Harvey Andrew McCue, Ottawa
Harvey McCue is a consultant specializing in aboriginal issues in the areas of health, education, self-governance, gaming, public relations and economic development. Previously, McCue helped found and develop the Native Studies Department at Trent University, where he taught for 14 years. He was Director of Education Services for the Cree School Board in northern Quebec for five years, and was the first First Nations Director General of Indian Education at Indian and Northern Affairs Canada in Ottawa. McCue also founded First Nations Youth at Risk, a charitable organization that provides grants for youth at risk, and served as its President and National Coordinator.
Meet the CEO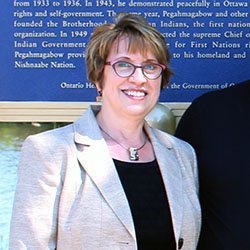 Beth Hanna
Beth Hanna is Chief Executive Officer of the Ontario Heritage Trust. Beth has served the public in the field of conservation for more than 30 years, working in the municipal sector before joining the province in 2000. She has a breadth of experience in the design and delivery of inclusive, engaging public programs and the conservation and stewardship of significant places. She works with government ministries and agencies, First Nations and Métis communities, conservation organizations and community groups, educators, funders and donors.
Beth is passionate about conserving the province's heritage and understanding the diversity of experiences, traditions, and perspectives of its peoples and communities.
---
Bios for other members of the Board of Directors