Everything I Know About Writing (In One Hour), hosted by Martine Leavitt (Doris McCarthy Artist-in-Residence Program)
Wednesday, September 18, 2019 from 6 to 8 p.m. (doors open at 6 p.m.; workshop from 6:30 to 7:30 p.m.)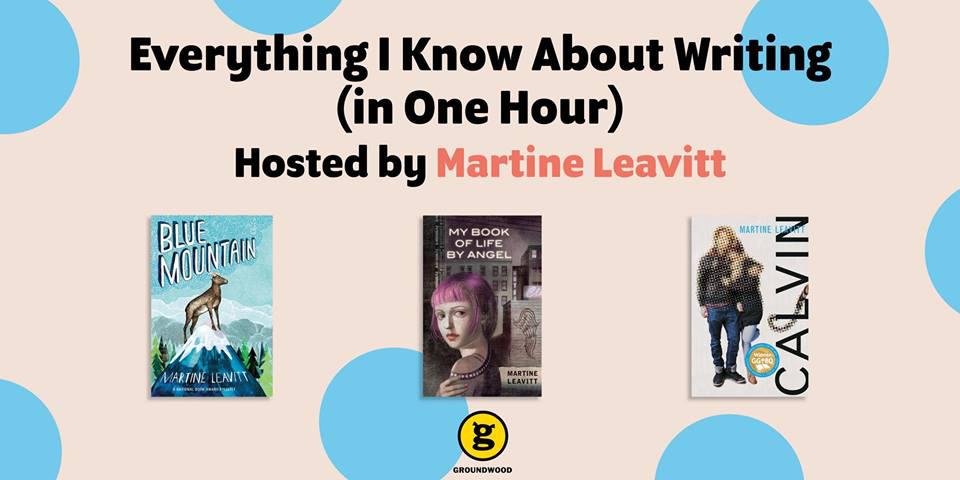 Everything I Know About Writing (In One Hour), hosted by Martine Leavitt - Doris McCarthy Artist-in-Residence Program. Young readers won't do without story. Adults will be happy with great writing and interesting innovation, but young people will never read a book just because it's good for them, or because everyone else is reading it. They must have story. Leavitt's creative writing graduate students - who come to her with the ability to write beautiful sentences, paragraphs and pages - almost all struggle with how to tell a good story. After 12 years of teaching, Leavitt has managed to distill it down to something that can be presented in an hour.
Leavitt has written 10 novels for young-adult readers, including: Calvin (winner of the Governor General's Literary Award, longlisted for the Printz Award and selected for the YALSA Best Fiction for Young Adults list), My Book of Life by Angel (a finalist for the Los Angeles Times Book Prize and winner of the Canadian Library Association Young Adult Book of the Year Award), and Blue Mountain (a National Book Award finalist). Her novels have been published in Japan, Korea, Denmark, Germany, Switzerland, Italy, the Netherlands and China. She teaches graduate students in a low-residency program at the Vermont College of Fine Arts and lives in High River, Alberta.
Join us for this creative writing workshop. Novice and experienced writers welcome.
FREE admission
Location:
House of Anansi Press and Groundwood Books
128 Sterling Road
Toronto, Ontario