Celebrate Emancipation Day at Uncle Tom's Cabin Historic Site
Uncle Tom's Cabin Historic Site
Saturday, July 30, 2016 from 10 a.m. to 3 p.m.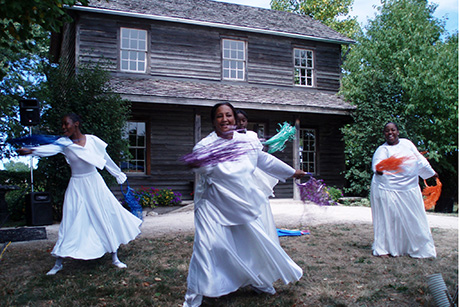 Join us at Uncle Tom's Cabin Historic Site for Emancipation Day – an annual celebration of hope and freedom commemorating the end of slavery in the British Empire on August 1, 1834. Special programming includes an interactive exhibit, speakers and musical performances. Plan on attending this fun-filled day for families and people of all ages!
Free admission
Program
10:25 a.m. Welcoming remarks

10:30 a.m. and 2:30 p.m. Drumming performances by Babarinde Williams
Back by popular demand, Nigerian-born Babarinde Williams will bring out the beat and rhythm in your soul with his interactive West African-style drumming demonstration. Take part by drumming along to new songs and dances.
11 a.m. and 2 p.m. Musical performances by singer Simone Soman
Known for her powerful and expressive voice, acclaimed singer Simone Soman will perform on the Emancipation Day stage.
11:30 a.m. and 1 p.m. Singing, dancing and drumming with Toronto's TC3 Youth Choir
Experience how Toronto's TC3 Youth Choir promotes, develops and encourages youth through inspirational song, dance and Afro-Caribbean drumming.
1:30 p.m. Curator Francis Jeffers from the International African Inventors Museum
Curator Francis Jeffers explores some of the many creative contributions and inventions made by African Canadian, African British, African Caribbean and Continental African people.
Gift shop | Picnic area| Public washrooms | Parking | Accessible site | Bring your own lawn chair!
---
Uncle Tom's Cabin Historic Site is located in Dresden, approximately three hours west of Toronto. The site is owned and operated by the Ontario Heritage Trust.

Uncle Tom's Cabin Historic Site commemorates the life of Josiah Henson, a former slave, who escaped to Canada via the Underground Railroad. Henson rose to international fame after Harriet Beecher Stowe acknowledged his memoirs as a source for her novel, Uncle Tom's Cabin. Settling in southwestern Ontario, Henson worked to improve life for the Black community and helped to establish the Dawn Settlement. He would go on to become an internationally recognized abolitionist, preacher and conductor on the Underground Railroad.

For more information about Uncle Tom's Cabin Historic Site and Emancipation Day, contact Steven Cook at 519-683-2804 or steven.cook@heritagetrust.on.ca.

For more information about the Ontario Heritage Trust, contact Kimberly Murphy at 416-325-5032 or kimberly.murphy@heritagetrust.on.ca.
Emancipation Day is supported by:
Location:
Uncle Tom's Cabin Historic Site
29251 Uncle Tom's Road
Dresden, Ontario