Provincial plaque commemorates Lieutenant-Colonel John McCrae, author of In Flanders Fields
Join the Ontario Heritage Trust and the 11th Field Artillery Regiment (RCA) for a provincial plaque unveiling commemorating the distinguished soldier, physician and poet
Lieutenant-Colonel John McCrae (1872-1918), author of In Flanders Fields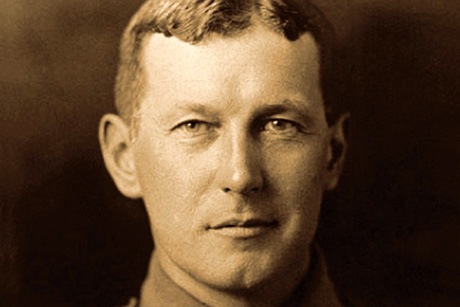 John McCrae in uniform circa 1914 (Photo: William Notman and Son, Guelph Museums, Reference No. M968.354.1.2x)
Thursday, November 6, 2014 at 7:30 p.m.
John McCrae had been serving in the First World War as a major and brigade surgeon of the 1st Brigade, Canadian Field Artillery, when the enemy unleashed a devastating gas attack on the Canadian troops on April 22, 1915 during the Second Battle of Ypres. Half of the brigade was killed in the 17 days of battle that ensued. Moved by the death of his friend Alexis Helmer on May 2, 1915, McCrae wrote In Flanders Fields a day later as he waited for the wounded to be brought to his medical post for treatment. First published in Punch magazine in December 1915, the memorial poem would become the most popular verse of the First World War, making McCrae well known throughout the British Empire and the United States.

This unique commemoration service will feature a video address by noted Canadian historian Jack Granatstein and a reading of McCrae's poem by cadets. Several representatives of the military will also be in attendance. Refreshments will be served immediately following the program.

In partnership with John McCrae Public School, the Ontario Heritage Trust will dedicate the provincial plaque during the school's annual Remembrance Day ceremony on November 11. Following the ceremony, the plaque will be installed at its permanent location at the entrance gates to the John McCrae Memorial Gardens and Cenotaph.

The Ontario Heritage Trust's Provincial Plaque Program commemorates significant people, places and events in Ontario's history. Since 1956, over 1,250 provincial plaques have been unveiled.
Directions:
From Highway 401 East or West, take Exit 295. Merge onto ON 6 North. Turn right onto College Avenue West and left onto Gordon Street. Turn right onto Wellington Street East, followed by a left onto Wyndham Street South. The armoury and parking are on the right, off Farquhar Street.
For more information, please contact:
Natasha Williams
Senior Marketing and Communications Specialist
Telephone: 416-325-5074
Email: natasha.williams@heritagetrust.on.ca
Location:
Guelph Armoury
7 Wyndham Street South
Guelph, Ontario