Provincial plaque to commemorate Colonel Darby Bergin 1826-1896
Tuesday, November 8, 2016 at 7 p.m.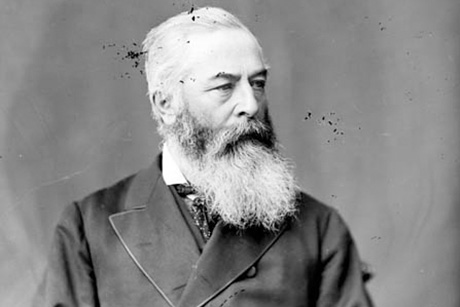 Dr. Darby Bergin, MP, 1879. Photo: William James Topley, Topley Studio Fonds, Library and Archives Canada, accession number 1936-270 NPC, item 33451, PA-033903 (detail)


Join the Ontario Heritage Trust, in partnership with the Stormont, Dundas and Glengarry Highlanders' Regimental Foundation, for the unveiling of a provincial plaque commemorating Colonel Darby Bergin. Doors open at 6 p.m. Museum and kit shop will be open. Early arrival is recommended for security check-in.

Colonel Darby Bergin was a physician, politician and the first commanding officer of the 59th Stormont and Glengarry Battalion. As a doctor, he treated typhus patients in Cornwall and worked with the Mohawks of Akwesasne during a serious smallpox outbreak. He later applied his medical expertise to the military, becoming Canada's first Surgeon General in 1885.

Elected a Member of Parliament in 1872, Colonel Bergin was dedicated to supporting rural affairs, public health and social justice. He championed better workplace conditions and reduced working hours for women and children. He also founded the Ontario Pacific Railway and made significant contributions to the expansion of the Cornwall Canal.

Colonel Bergin's passionate social advocacy and lifelong support of the militia left a lasting legacy. His work shaped future labour reform in Canada and set the stage for the creation of a permanent medical corps.

The Ontario Heritage Trust's Provincial Plaque Program commemorates significant people, places and events in Ontario's history. Since 1956, over 1,270 provincial plaques have been unveiled.
For more information, please contact:
Oksana Kravets
Marketing and Communications Specialist (A)
Telephone: 416-325-5032
Email: oksana.kravets@heritagetrust.on.ca
Location:
Cornwall Armoury
505 Fourth Street East
Cornwall, Ontario