Charlie Fairbank (great-grandson of Oil Springs pioneer John Henry Fairbank), Oil Springs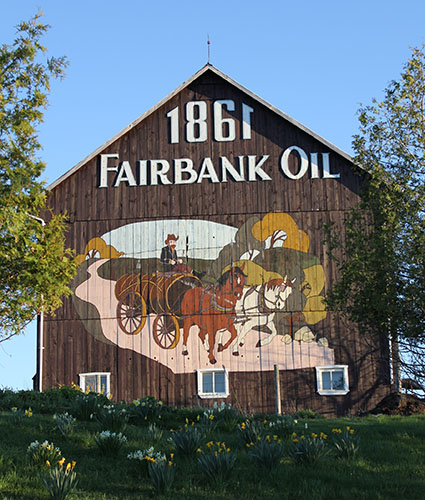 An enduring landscape
Each morning, I open the door of our farmhouse and step into an enduring landscape of beauty, shaped by horse and man. Sheep dot the fields, deer often bound away and birds flap overhead. The swinging wooden jerker line sings a symphonic rhythm as it delivers power to the pumpjacks.
I live in North America's oldest oilfield – the village of Oil Springs, Ontario. My great-grandfather, John Henry Fairbank, arrived at this spot in 1861 with just a shovel and a dream. The oil was for lighting. The excitement was palpable. The world was just awakening to this transformative new source of energy. It would change … everything.
And it has. Yet, Fairbank Oil Fields is a preserved pocket of 600 acres where woodlands, wetlands and fields remain much unchanged. The oilfield has been in my family for four generations and 156 years. We use 19th-century technology on a daily basis to harvest the oil formed millions of years ago, compressed and cooked by the earth.
My great-grandfather couldn't foresee life bringing him here and I was equally surprised to be lured here. As the world spins ever faster, there is joy in knowing that some things endure.
Photos courtesy of Charles Oliver Fairbank III
This story's themes
Photo Gallery
Charles Oliver Fairbank III

Wooden jerker lines
Most viewed themes