Michael Bliss, 1941-2017 (historian, award-winning author and Professor Emeritus, University of Toronto), Toronto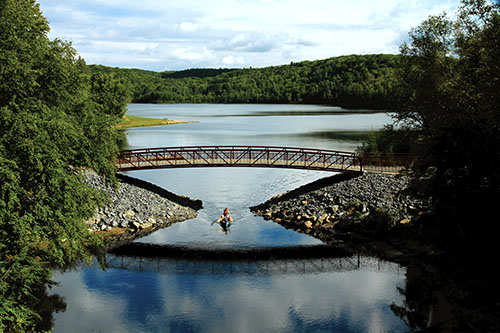 You can go home again
I first saw the Camp Ahmek waterfront on Canoe Lake in Algonquin Park in 1951. I saw it again last summer – 65 years later – and it was almost completely unchanged.
On the walls of Ahmek's great dining hall still hang plaques commemorating the highlights of each summer's camping. Looking at these plaques as a young boy first triggered my sense of history.
Out on Canoe Lake, it's said that the ghost of Tom Thomson, the drowned artist, paddles eternally, soundlessly, in the mist. We would stand on the docks and imagine we could see him. One night, our theatre director – dressed as Thomson's cadaver and carrying a lantern – walked up out of the lake and into the dining hall, creating hysterical, beautiful pandemonium.
Canoe Lake and Camp Ahmek are only two of the gems of Algonquin Park, which is Ontario's and my land of Oz. We visit it every summer. When I die, I hope that my grandchildren will sprinkle my ashes on one of the Algonquin Lakes they've learned to love. And think for a few moments about history, place and continuity.
This story's themes
Photo Gallery
Credit: Photo courtesy of Michael BlissMichael Bliss
Most viewed themes