R. Dennis Moore (Archivist, Multicultural History Society of Ontario), Toronto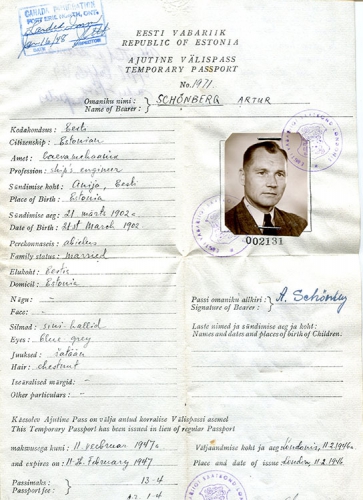 This is the temporary passport of Arthur Schönberg, an Estonian naval engineer who risked the high seas to secure a new life in Canada. Although I have never met Mr. Schönberg, his story has been preserved on audiotape by the Multicultural History Society of Ontario.
Arthur Schönberg had a lot of experience in the sailing and operation of ships. For most of his adult life, he worked on a variety of seaworthy vessels. He applied his naval skills in 1944 to escape the Soviet occupation of Estonia. Having participated in the Estonian War of Independence, he had no desire to live under communist rule. He sailed with his wife to Finland and remained there for a short time before escaping once again from an ever-advancing Soviet border. He ended up in a refugee camp in Sweden, where he remained until he purchased a ship of his own (the Edith) and set sail on his "Viking boat" for the "New World" on July 2, 1947, with twenty-four other Estonian refugees.
After several harrowing mishaps, the Edith and its would-be immigrant passengers arrived in the United States on September 16, 1947, where they were declared illegal immigrants and their ship was seized by customs officials. Schönberg and his fellow asylum-seekers spent several months in bureaucratic limbo on Ellis Island until a visiting clergyman invited them to Canada. They traveled north by train to Fort Erie. Schönberg settled in Kitchener for a time, eventually moving to Toronto, where he would pass away at the age of 83, a naturalized and proud Canadian citizen.
Arthur Schönberg was one of 1,500 unauthorized northern European immigrants who risked their lives in search of personal and political freedom in the immediate aftermath of the Second World War. He never regretted coming to Canada or becoming a member of Ontario's multifaceted and multicultural mosaic. His story is just one of many that the Multicultural History Society of Ontario has preserved to inspire and educate future generations of Canadians.
This story's themes
Most viewed themes