The Royal Canadian Regiment Museum set of Colours (1901-06), London, Ontario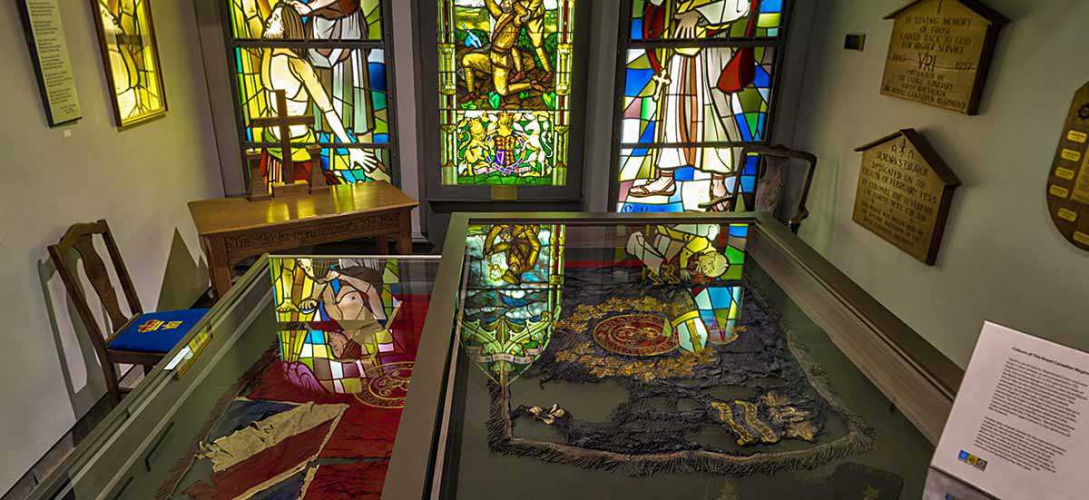 Once serving the practical purpose of a rallying point on a battlefield, today, Regimental Colours are exclusively ceremonial objects representing the history and spirit of a regiment.
Traditionally, Canadian infantry regiments hold two colours: The first is the reigning monarch's Colour showing the royal cypher, and the second is the Regimental Colour, displaying the unit's Battle Honours embroidered on scrolls. Battle Honours are an official acknowledgement of a regiment's engagement in combat. They are awarded for both campaigns and individual battles.
The first Colours of The Royal Canadian Regiment (RCR) were presented during a military review at Exhibition Park in Toronto, 11 October 1901. The review was held in honour of His Royal Highness Prince George, the Duke of Cornwall and York, who was on a royal tour of Canada. The Duke, on behalf of his father, King Edward VII, presented the Colours to the Commanding Officer, Colonel Lawrence Buchan C.M.G., in front of more than ten thousand soldiers and spectators.
After the presentation, errors with the regimental insignia on the colours required their return to an embroidery workshop in England for corrections. This took several years as the RCR received Battle Honours in 1905 that were then embroidered by the same workshop. By 1906, they were returned to the Regiment.
The royal cypher of King Edward VII, shown on the King's Colour, is surrounded by the words "Royal Canadian Regiment" along with an Imperial Crown on a backdrop of the Royal Union Flag. The Regimental Colour features the same cypher, encircled by maple leaves. The Regimental Colour has four Battle Honours: North-West Canada 1885, Saskatchewan, South Africa 1899-1900, and Paardeberg.
These colours were paraded by the RCR until the 1930s. On 26 May 1932, a second set of colours was presented by the Governor General Vere Ponsonby in a ceremony at Wolseley Barracks in London, Ontario. At that time, the first set of colours was officially laid to rest in the Bishop Cronyn Memorial Church, where they remained until the church's disbanding in 2015. The colours now rest at The Royal Canadian Regiment Museum, in the so-called Quiet Room.
This story's themes
Photo Gallery
Credit: The Royal Canadian Regiment Museum, Archives CollectionSet of Colours, The Royal Canadian Regiment

Credit: The Royal Canadian Regiment MuseumRegimental Colour, The Royal Canadian Regiment (Royal Cypher detail)
Most viewed themes