Biographies
Meet the Chair
John Ecker, Whitby
John Ecker is a communications, marketing, branding and fundraising executive. He is the Director, Family of Faith & Special Projects at Archdiocese of Toronto where he oversaw brand development and marketing for the $170-million Family of Faith Campaign. Previously, he served as Vice President at Indspire (the former National Aboriginal Achievement Foundation) and held director-level positions at the Ontario Trillium Foundation, ECHO: Improving Women's Health in Ontario, and the Toronto Board of Trade.
Ecker's involvement with the Trust goes back decades. In the 1990s, he oversaw development of the Heritage Community Recognition Program, forerunner of the Lieutenant Governor's Ontario Heritage Awards.
He is a Selection Committee member for the province of Ontario's annual June Callwood Awards and an ex-officio Board member of the Ontario Cultural Attractions Fund. An active volunteer, Ecker has served on the board of Credit Canada and is a former chair of the Whitby Public Library Board and the Waterview Child Care Centre. He most recently served as Chair of Heritage Whitby (LACAC) and has been a volunteer for Whitby's Doors Open. He also served as Chair of the Lynde Marsh Alliance, a land trust. Internationally, he established Bimini Bound, which sent over 10,000 books and learning resources to schools on the island of Bimini, Bahamas.
Meet the CEO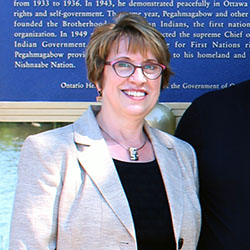 Beth Hanna
Beth Hanna is Chief Executive Officer of the Ontario Heritage Trust. Beth has served the public in the field of conservation for more than 30 years, working in the municipal sector before joining the province in 2000. She has a breadth of experience in the design and delivery of inclusive, engaging public programs and the conservation and stewardship of significant places. She works with government ministries and agencies, First Nations and Métis communities, conservation organizations and community groups, educators, funders and donors.
Beth is passionate about conserving the province's heritage and understanding the diversity of experiences, traditions, and perspectives of its peoples and communities.
---
Bios for other members of the Board of Directors