Champlain's journey of 1613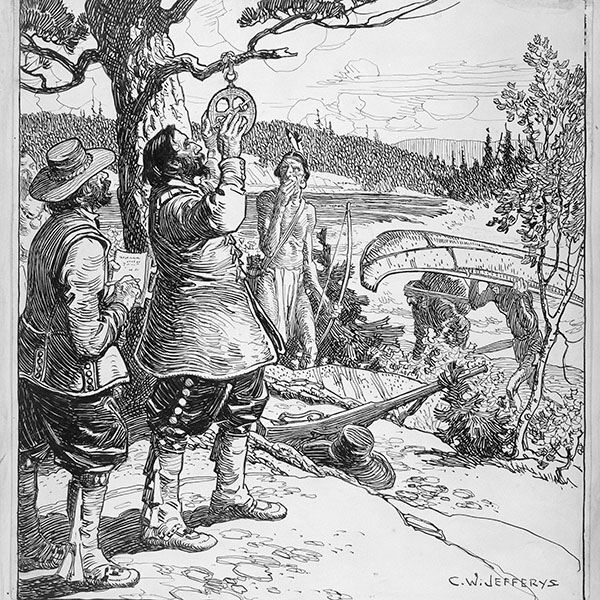 On his first journey up the Ottawa River in search of the northern sea (Hudson Bay), Champlain stayed briefly at an Algonquin village near present-day Cobden. After learning that he had been misled as to the proximity of the elusive sea, Champlain proceeded down the Ottawa River from Lower Allumette Lake and returned to Quebec.
The first mass celebrated in Ontario
The first Christian missionary to reach present-day Ontario was the Récollet priest Father Joseph Le Caron (1586-1632), who accompanied Samuel de Champlain (c. 1570-1635) on his 1615 voyage to New France. Travelling by canoe and led by native guides, Le Caron made his way from Quebec City to the Huron village of Carhagouha, a few kilometres northeast of Nottawasaga Bay. Champlain, who was travelling the same route, reached Carhagouha shortly thereafter. On August 12, 1615 – in the presence of Champlain – Le Caron held mass and chanted the Te Deum. This was the first mass celebrated in present-day Ontario.
More about Samuel de Champlain
"The first recorded European contact in Algonquin Territory was with Samuel de Champlain in 1613 on the Kitchissippi (the Ottawa River). On this journey, he meets with members of at least three different bands of the Algonquin Nation along the Kitchissippi.

The last band he meets with is the Kichesipirini, the Big River people, at present-day Morrison's Island near Pembroke, Ontario. Champlain went to proceed farther upriver, but while he is treated very well and cordially by the Kichesipirini, Chief Tessouat does not allow him to pass. The Kichesipirini and their Chief Tessouat decided which non-Algonquins could pass up and down the Kitchissippi and levied tolls on those who were allowed to pass, including explorers and missionaries. Along the river and its many tributaries, there are many Algonquin archaeological, sacred and burial sites that attest to long occupation and use."

Chief Kirby Whiteduck, Algonquins of Pikwakanagan First Nation.
Read Along the Ottawa River, by Erin Semande, to learn more about the history of the Ottawa watershed – an article from Heritage Matters.