Afua Cooper, PhD (James R. Johnston Chair in Black Canadian Studies, Dalhousie University)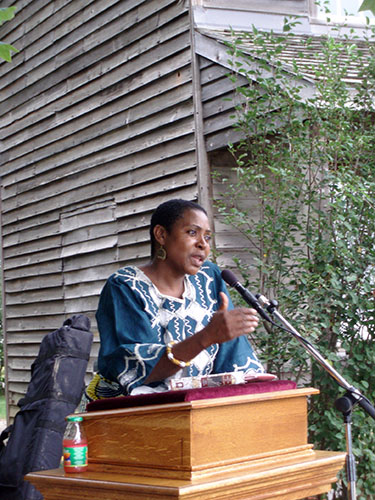 The Black history of Ontario inspires me and defines who I am
Peggy Pompadour haunts me. I walk through the streets of Ye Olde Towne Toronto and I feel her presence – this Black enslaved woman who was owned, jailed and sold by colonial administrator Peter Russell. Peggy often ran away from slavery and Russell would find her and confine her to the local jail. When Russell could no longer control Peggy, he put her up for sale with her son Jupiter.
Walking through the oldest part of the City of Toronto, I walked on pathways that they trod, and I remember and honour their spirit.
I am also inspired by Peter Long and his family, free Black Loyalists who came to Toronto from the Miramichi Valley of New Brunswick. And before New Brunswick, the Longs came from Massachusetts. Peter and his family established a farm in the Bayview/Pottery Road area of Toronto but, unlike Peggy Pompadour, they lived out their dreams as free people.
My Ontario includes the memory of the Black men who cut down trees and constructed the Davenport Road that connected the eastern part of Toronto to the western part.
Ontario Black history helps to define me, and is an integral part of my identity. I – a Jamaican-born African diaspora daughter – move through this land, connecting the lineages from the Caribbean, West and Central Africa, East Africa and African Canada.
This story's themes
Most viewed themes