Diane, Mississauga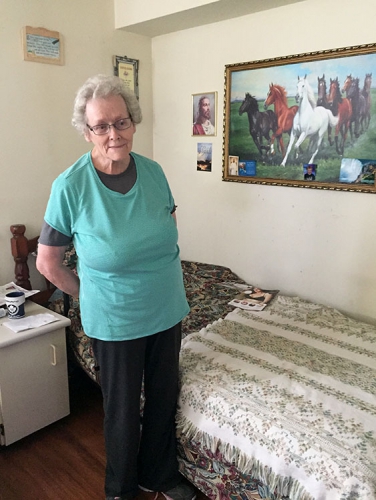 "I am proud to be Canadian. The small villages and towns are very friendly but I also loved Toronto. I loved the streetcar and the subway – it is easy to get anywhere."
Diane was born in Orangeville, Ontario and lived there for much of her life.
She had a twin sister and is one of six children. Her first job was in a rubber mill where they made balloons in Alton, near Orangeville.
Diane married at city hall in Toronto in 1957 at the age of 19. She lived in San Jose, California for a time but ended up back in Toronto. She worked very hard in factories and cleaning houses.
She has a real love of music – especially country music. Merle Haggard is a favourite but there are many country singers that she enjoys listening to.
Diane is a long term resident at Forum Italia. She has lived there for 25 years now. She loves her cat Patches and although he was camera shy during her interview, he is always by her side. She is a bright lady with a very positive attitude who loves to talk to her friends and enjoy the entertainment and socials at Forum Italia.
This story's themes
Most viewed themes