Luigi, Mississauga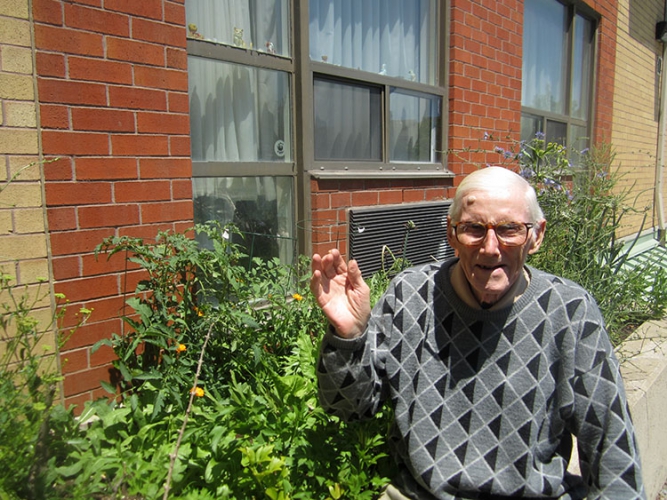 From Valdagno, Italy
"You can build a life in Canada. I worked hard and built a successful grocery store business, specializing in items for Italian shoppers. I have never been out of work here."
Luigi grew up in Mussolini led Italy. He was required to leave his family at an early age and work on a tunnel on the Austrian border. These were very sad years for him, he experienced loss and was required to do things that he did not want to do. After WWII he went to Argentina but work was scarce everywhere. He went back to Italy but soon after headed to Canada to look for work as it was very difficult to earn a living in Italy at the time. He travelled across the ocean on the Andria Doria and spent his first winter in Montreal. He moved to Hamilton and worked in a textile mill, but a friend had started a salami factory in Hamilton and that drew Luigi to the supermarket business. After working and saving some money he opened Luigi's Supermarket that catered to the produce and goods that Italian Canadians were looking for – salami, pasta, olive oils and parmesan to name a few. The supermarket did well, but Luigi eventually sold it to go back to Italy and be with his wife. Her family did not want her to leave Italy.
Luigi started a business in Italy but people did not have the money to buy things there and he came back to Canada in 1959. He did finally convince his wife to come to Canada and join him – they had 3 children. Luigi worked as a butcher for Steinbergs and then Miracle Mart, and also took courses and learned about refrigeration to solve problems at the stores. He and his wife bought a house in Toronto and grew a beautiful and bountiful garden.
Luigi started a small garden at Forum Italia in a space that was available near the parking lot. In relatively small space he has been able to grow a great variety of vegetables and herbs that are used by many residents at Forum Italia.
This story's themes
Most viewed themes