Kevin Mannara (Basilian scholastic, seminarian, Our Lady of Assumption Catholic Parish), Windsor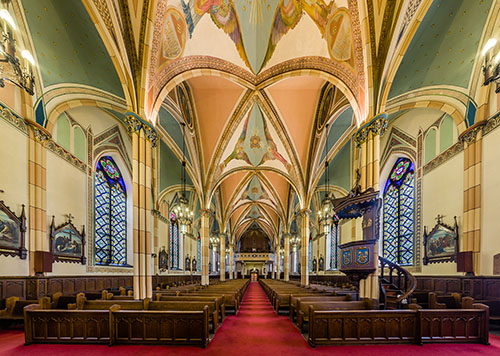 What was and what will be
The term symbolkirchen can roughly be translated as a "symbol bearing church." Such churches point to living realities beyond ourselves and hold the potential to serve as bridges, transcending the present vision to bring together what was and what may yet be. Assumption Church stood as a symbolkirchen not only for Assumption Catholic Parish, but for the city of Windsor and for the Church in Ontario.
The same word "church" is used for both the community of Christian believers and their place of worship, revealing an intimate connection. Churches are also "built ecclesiology." Assumption's Gothic arches and interior art point the mind and spirit to a higher realm. Assumption Church was the third church building to serve the parish, which was founded in 1767 for both the Hurons and French settlers. Built in 1845 and renovated over time, Assumption Church was the place of countless baptisms, weddings and funerals, in addition to Sunday and daily mass for Ontarians.
Needed repairs forced its closure in 2014 and the parish now worships in another church building. Assumption's historical art and architecture are in jeopardy. The church community continues praying for the benefactor who holds the key to reopen their church home to link Ontario today with both what was and what will be.
Photos courtesy of Kevin Mannara
This story's themes
Photo Gallery
Kevin Mannara

Our Lady of Assumption Catholic Church (interior), Windsor

Our Lady of Assumption Catholic Church (interior), Windsor
Most viewed themes