Laura Wickett, Toronto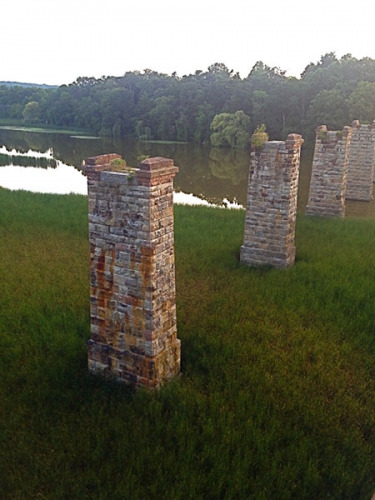 Industrial heritage in Jordan Harbour
To find your way to one of Niagara's hidden gems, you first need to know which dead-end street in Jordan Station to park on, and then take an overgrown pathway through the bushes to a steel train trestle bridge. Follow it out over the mouth of Jordan Harbour, and you'll be rewarded with an elevated view of the winding wetlands of Twenty Mile Creek, punctuated by a row of massive sandstone piers rising out of the water: remnants of a 19th-century train bridge that was once part of a CN Rail shipping route.
When I first visited this bridge, I had completed my first year in the heritage conservation program at Willowbank and was working on repointing a limestone church tower. I looked at the bridge with such different eyes than if I had seen it before becoming a student of heritage – marvelling at the craftsmanship put into what was "only" a utilitarian train bridge, which connected Niagara to the whole country.
I enjoy bringing friends and family to see this site where industrial heritage now serves as a stunning gateway to connect us with the rich natural heritage found in Niagara. The stone may be old, but the area is alive with greenery and bird calls. The spot has become a personal landmark on my expedition into the field of heritage conservation.
This story's themes
Photo Gallery
Credit: Laura WickettJordan Harbour train bridge

Credit: Laura WickettJordan Harbour train bridge
Most viewed themes