Museums of Mississauga, Mississauga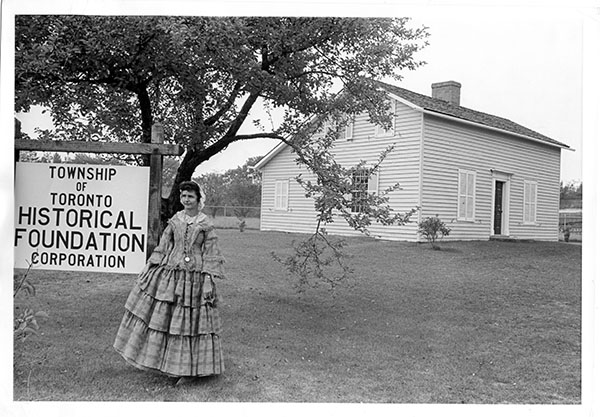 This photograph shows volunteer Margaret Archer dressed in her great grandmothers dress in front of the newly opened Lewis Bradley Museum in 1967.
The Bradley Museum opened to the public in 1967 as part of the Canada's Centennial Celebrations. The home was built by the Bradley family who settled in southern area of present day Mississauga after travelling from the United States and through Eastern Canada. Lewis and his wife Elizabeth were United Empire Loyalists who were left the United States of America after the American Revolution.
After Lewis death in 1848, Elizabeth remarried, packed up her belongings and moved with her younger children to their new home in York County. The saltbox style farmhouse is the only original artifact that remains from the Bradley family.
As with development in other communities surrounding Toronto the home was in threat of demolition but it was thru the dedicated and passionate efforts of over 100 volunteers that we celebrate the 50th Anniversary of the home today. Mrs. Archer, shown in the above photograph, is one such volunteer who participated in several work parties to help restore the home as a heritage house museum. She later served as secretary for the Township of Toronto Historical Foundation which oversaw the operation of the home. During this C150 year the Museums of Mississauga wish to acknowledge the 50 years of hard work and commitment that our volunteers have contributed to our organization.
The Museums of Mississauga bring heritage to life by visually narrating the early settler experience and life in the nineteenth century through to the modern era. Our historic houses and sites offer insight into the lived experiences of their past residents, while our own life experiences are creating a living history of this time.
This story's themes
Photo Gallery
The Bradley Museum, Mississauga
Most viewed themes