R. Donald Maracle (Chief of the Mohawks of Bay of Quinte)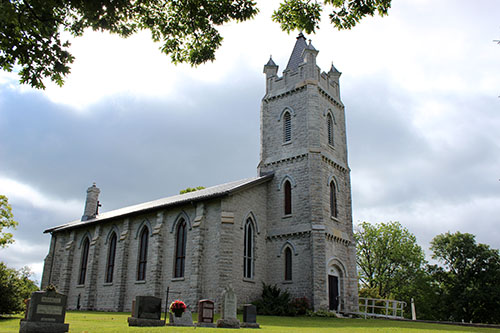 Christ Church, Her Majesty's Chapel Royal of the Mohawk – Tyendinaga Mohawk Territory
During the American Revolution, the Mohawks were forced to flee their homeland in upper New York State. In 1784, after spending several years in Lachine, Quebec, a group of Mohawks arrived on the shores of the Bay of Quinte at Tyendinaga Mohawk Territory.
The Chapel Royal, built by the Mohawks and completed in 1843, is a Gothic structure – and one of only six Chapel Royals outside of Great Britain. Christ Church was given the Royal designation in August 2005 to signify and reaffirm the long-standing political alliance and faithful military alliance of the Mohawks to the British Crown over the last 400 years.
The building itself houses many remarkable gifts given to the Mohawks by the Royal family (as recently as 2010), and as early as the Queen Anne silver presented to the Mohawks in 1711 – which is still in use today. The grounds are home to many notable members of our community, including Dr. Oronhyateka, a national historic person.
Christ Church, Chapel Royal of the Mohawk is indeed a national treasure. It has also been designated as a national and provincial historic site and is visited by hundreds of tourists each year.
This story's themes
Photo Gallery
R. Donald Maracle
Most viewed themes