The Honourable Elizabeth Dowdeswell (29th Lieutenant Governor of Ontario)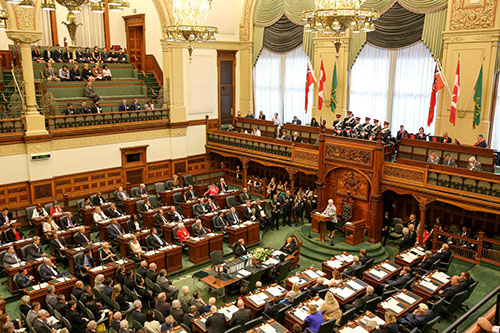 The conscience of our province
Ontario's Legislative Building, completed in 1893, is a magnificent structure filled with stories from the most significant moments in our province's modern history. The place is replete with traditions. One of the more recent ones is the hosting of the Lieutenant Governor's Suite. Since 1937, when Government House was closed, the Sovereign's representative has shared space with the elected Legislative Assembly. In keeping with our constitutional inheritance, both sides jealously guard their customs and privileges. Yet, over the years, we have co-existed peacefully.
One such example is the case of the Page Program at the Legislative Assembly. Since 1867, these young people have served Members of Provincial Parliament and, more broadly, have acted as ambassadors of the Legislative Assembly. (The viceregal institution has ambassadors, too: the ghosts of successive Lieutenant Governors are said to haunt the halls.) For many decades, the Lieutenant Governor of the day has met with each intake of pages. This has been a meaningful exercise. Not only do I answer the pages' questions about my role in the governance of our province, but the pages regularly tell me of their studies, families and hometowns. There has even been an impromptu piano recital from time to time.
I look forward to these conversations. Not long after taking office, I asked a group of pages what they thought I might focus on during my mandate. The answers varied. A number thought I should shine a light on bullying, and there was general agreement that promoting a greener way of life was something we should all endorse. Then, a thoughtful and eager young boy raised his hand and suggested that I should concentrate my efforts on fighting poverty and homelessness. Furthermore, he went on to tell me why. I often think of that encounter because I question what I was doing and thinking about when I was in Grade 7. "Poverty and homelessness." It was a moment that left me so optimistic about our future – bright, articulate young people already exhibiting the kindness and caring spirit of Ontarians.
Queen's Park is so much more than a historic building. Through the ongoing work of pages and premiers, legislators and aides, this place symbolizes public service and the conscience of our province. May it continue to inspire us for years to come.
This story's themes
Photo Gallery
Credit: V. Tony HauserThe Honourable Elizabeth Dowdeswell
Most viewed themes