Delany Leitch, Backus-Page House Museum, Wallacetown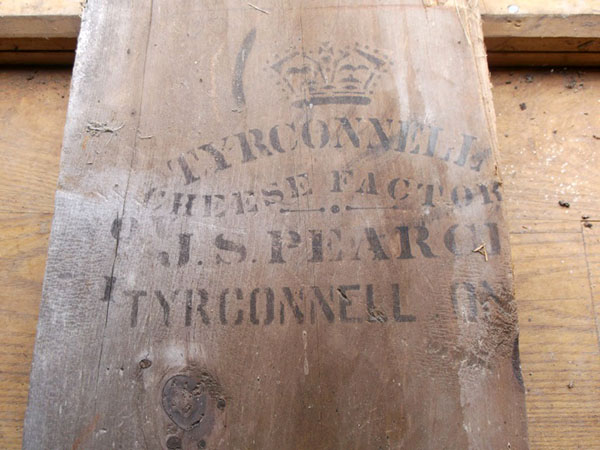 The Tyrconnell Cheese Factory was established in 1865 by John Pearce on his own farm, and was the first cheese factory in the district. At that time, cheese boxes were not even available in all of Elgin County, so Mr. Pearce and his men had to make the long and slow journey to Ingersoll and back in order to obtain them. Later, the factory was moved into the more central location of Wallacetown in a larger two-story building at the corner of Pearce St. and Talbot St. It was purchased in the 1880s by the Keillor family and was sold around 1915 to the newly-established Strathcona Creamery in Dutton.
This artifact is one of very few remnants from the once-bustling industry at the Tyrconnell pier, just south of Wallacetown on the north shore of Lake Erie. It represents a period of growth and promise in the time before the introduction of the railroad, owed to the shipping industry and settlement project begun by Colonel Thomas Talbot. Today, the picturesque lakeside village shows little sign of its busy origins, but remains a testament to the resolve of its early residents.
97.6.1 Donated by Peter Hentz (found on the Ernest Pearce farm, whose great-grandfather was John Pearce)

This story's themes
Most viewed themes