Ellen Scheinberg (author and President, Heritage Professionals/Archives), Toronto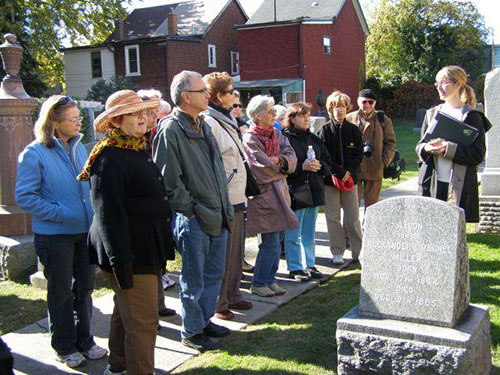 Celebrating the history of Toronto's Jewish cemeteries
Over the past decade, I have developed a passion for cemeteries. It started during my tenure as Director of the Ontario Jewish Archives, when I devised a tour of the Pape Avenue Cemetery with local artist Susan Brown.
Pape Cemetery was established in 1849 by Toronto's first Jewish residents. Some of the individuals interred there include rabbis, prominent businessmen, military heroes and children, as well as victims of local pandemics. In addition to conveying insights related to Jewish burial rights and traditions, the stories recounted during the tour touch on all facets of Jewish history.
Within the last year, I have worked with Toronto Hebrew Memorial Parks (THMP) – a non-profit organization that runs the two community cemeteries situated in York region – to document the history of THMP and design cemetery workshops for high school students. Our first workshop was held in May 2016. This initiative will enable us to pass on our knowledge and enthusiasm for historical sites to Jewish youth. This type of work, in my view, is vital in that it will ensure that the next generation will make use of, and ultimately maintain, these religiously and historically sacred and invaluable sites.
Photos courtesy of Ellen Scheinberg
This story's themes
Photo Gallery
Ellen Scheinberg
Most viewed themes