J.M. Rowe, Esquesing Historical Society, Georgetown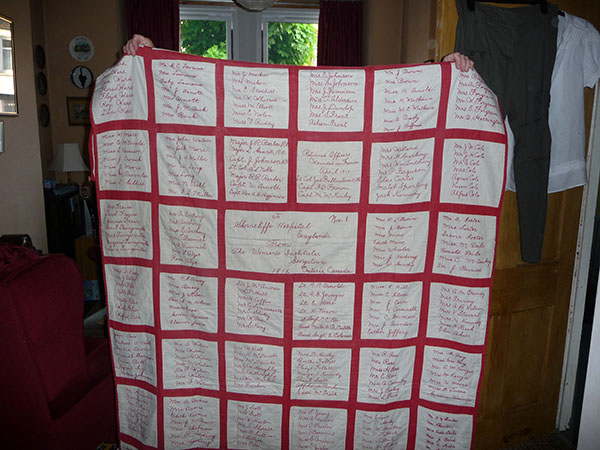 The Great War 1914-1918
The home front – Georgetown
This quilt was created through the efforts of the Georgetown Women's Institute in 1915. The citizens were asked to pay 10 cents per name to have it embroidered onto a square for the quilt. It was completed in time for the 1915 Esquesing (Georgetown) Fall Fair and put on display before being sent overseas to the Canadian Military Hospital at Shorncliffe, England. It was used there and the boys and girls overseas were assured that they were being remembered back home.
It was inherited by Tony Groves of Wimbleton who contacted Halton Hills Mayor Rick Bonnette. It was passed to the Esquesing Historical Society and they were pleased to accept the donation. Mr. Groves approached the Canadian High Commission about paying for the shipping. Brigadier General Michael Dabros CD of the Canadian Defence Liaison Staff (London) agreed and the quilt was couriered to the Esquesing Historical Society in August 2013.
One wounded officer who was recovering in Georgetown at the time was Lt.-Colonel James Ballantine. The Boer War veteran was temporary commander of the 4th Battalion of the Canadian Expeditionary Force when he was wounded. He received the Distinguished Service Order from H.M. King George V in May 1915. He was given a hero's welcome when he returned to town. While here he was President of the Georgetown Red Cross and helped start the local Boy Scouts. He would go on to command the 76th Battalion at Camp Borden, before becoming Director of the Military Sciences Department of Colgate University in New York. He retired to Georgetown in the 1930s and died here in 1948.
This story's themes
Most viewed themes