Mélanie-Rose Frappier (2014 Lieutenant Governor's Ontario Heritage Award for Youth Achievement)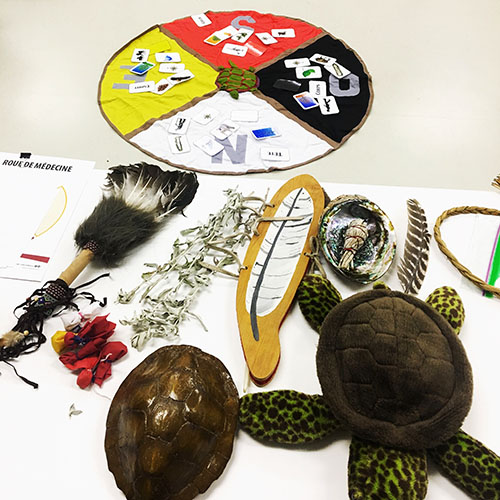 On the path to reconciliation
Education is key. It will lead to healing as well as social awareness about the Indigenous culture. My ancestors spent hundreds of years fighting for the right to practise their way of life and it is still a struggle for some people today.
The picture shown here represents hope and reconciliation. I have the honour of teaching secondary school students as well as professors across Ontario about the Indigenous culture. I am hopeful that these teachings will bring awareness as well as stop certain stereotypes associated with Indigenous people. I take great pride in my work as I believe it is my responsibility to continue the traditions and customs of my nation.
As a youth, I play an important role in the revitalization of our nation. Without our willingness to learn our elders' ways, many views, stories, songs and important symbols of our nation will fade. I believe that we have made great progress when it comes to creating an open and understanding environment for Indigenous people. This is, however, only the beginning. I envision Indigenous studies courses offered in all secondary schools, youth speaking their mother tongue, clean water on reserves and so many other positive changes in the future. I believe we are on the right path to reconciliation.
This story's themes
Photo Gallery
Mélanie-Rose Frappier (centre)
Most viewed themes