William R. Fitzgerald (archaeologist)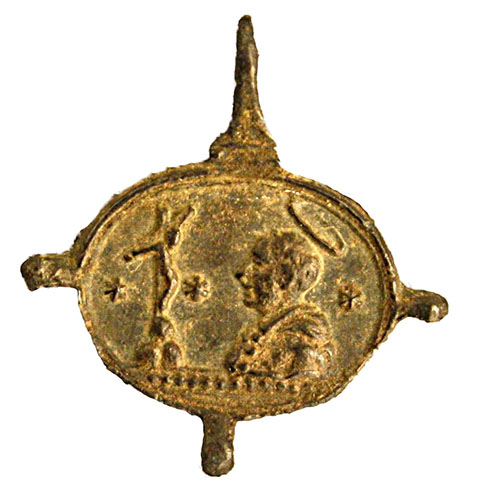 A divine intersection of history and archaeology
Suspicion, fear, and intimidation met Jesuit priests Jean de Brébeuf and Pierre-Joseph-Marie Chaumonot during their Mission of the Angels to "la Nation Neutre" between November 2, 1640 and March 19, 1641. This tribal confederacy – so named by Champlain in 1616 because of its neutrality in the Huron-Iroquois conflicts – stretched from the head of Lake Ontario throughout the Niagara Peninsula and across the Niagara River. Toward the end of their stressful mission, a severe snowstorm forced an extended stay at Teotongniaton (St. Guillaume) where a woman hosted the Jesuits for 25 days.
When such opportunities arose, Jesuit practice was to use inexpensive gewgaws as tools of conversion in exchange for hospitality and for purchase of necessities. Iconographic copper-alloy rings recovered from 17th- and 18th-century archaeological sites are commonly attributed to Jesuit missionary activity. Cast from gold-coloured brass or gunmetal, their plaques display a diversity of decorative motifs applied in raised relief, by die-impression or by engraving. Both ecclesiastical and secular in nature, the two most common are IHS and L♥ ("L-Heart"). The IHS monogram with a cross rising from the H's horizontal bar remains an official Jesuit symbol – IHS being the abbreviation of the Latinized Greek spelling of Jesus. The L♥ rebus – the personally intimate sentiment, "elle a mon coeur" – may also have served to display devotion to Jesuit founder Ignatius Loyola or to [French kings] Louis XIII or XIV.
Relic hunters and a 1977 archaeological expedition led by Paul Lennox recovered an uncommonly high number of Jesuit-attributable paraphernalia from the Neutral Hood site near Freelton, northwest of Hamilton. While secular explorers and traders also doled out these items, their unusual concentration at the Hood archaeological site should be accepted as testimony to the 1641 snowbound presence of the future Saint Brébeuf and Chaumonot in an unexpected oasis of goodwill.
Photos courtesy of William R. Fitzgerald
This story's themes
Photo Gallery
William Fitzgerald

Jesuit medallion

Jesuit rings
Most viewed themes