Joseph Seagram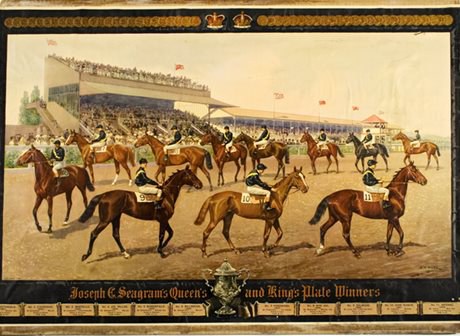 Statistics:
Sport: Horse racing
Born: April 15, 1841 in Cambridge, Ontario (then Galt)
Milestones:
1891-98 – Queen's Plate champion
1906-19 – President of the Ontario Jockey Club
1896-1908 – Member of Parliament
1911 – Joseph E. Seagram and Sons Limited incorporated
Superstition:
Seagram never watched a race. Instead, he would pick an infield dandelion and put it in his lapel before each race. He would then turnaround and visualize the race instead of watching it.
Joseph Seagram (1841-1919) was an immensely successful Ontario industrialist whose racehorses won the prestigious Queen's and King's plates 20 times. In his leisure time, Seagram developed a love for horse racing and established a 200-acre (81-hectare) stud farm in Waterloo in 1888. Seagram was instrumental in breeding and training thoroughbred racehorses by bringing brood mares from England. Inferno was one of his best horses, who won the King's Plate, the King Edward Gold Cup three times, the Durham Cup twice and the Toronto Cup. Seagram's signature brand of whisky, Crown Royal, was wrapped in a purple purse similar to that given to race winners. Seagram was inducted into the Canadian Horse Racing Hall of Fame in 1976.