Canadian 4 x 100-metre track relay team of 1996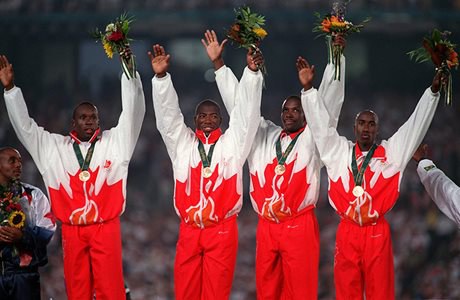 Statistics:
Sport: Track and field
Athletes and country of birth: Robert Esmie and Donovan Bailey (Jamaica), Glenroy Gilbert (Trinidad and Tobago) and Bruny Surin (Haiti)
Date of event: July 19, 1996 at the Summer Olympics in Atlanta, Georgia
Number of spectators in attendance: 83,000 at the Centennial Olympic Stadium
Winning time: 37.69 seconds
Other events: Bailey also won gold in the 100-metre in world-record time
Canada's most famous track relay team of the latter half of the 20th century was composed of members of different cultural backgrounds that came together to win gold. The team included Robert Esmie (born 1972), Donovan Bailey (born 1967), Glenroy Gilbert (born 1968) and Bruny Surin (born 1967). All four members were born in another nation, but moved to Canada at a young age. Esmie grew up in Sudbury, Bailey in Oakville, Gilbert in Ottawa and Surin in Montreal. As a team, they excelled at the 1996 Olympics in Atlanta, winning the gold medal for the 4 x 100-metre relay in a time of 37.69 seconds – 0.29 seconds off the world record. The team was inducted into Canada's Sports Hall of Fame in 2008.
"Any time I got to put on the Canadian body suit, I was excited. Because we've benefited so much from immigrating to Canada. For me, competing on Team Canada was an opportunity to pay back … It didn't matter how we were doing. I was always proud to don the body suit and perform." – Glenroy Gilbert