Herbert "Herb" Carnegie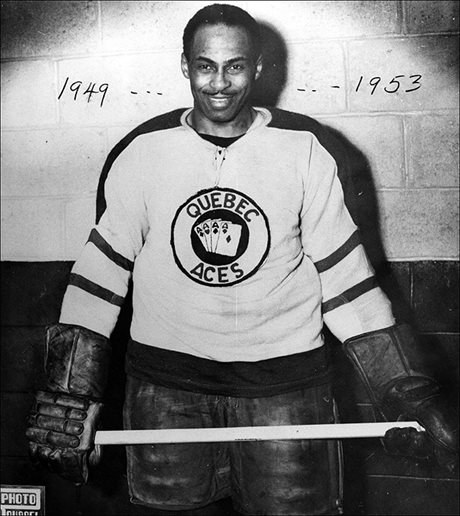 Statistics:
Sport: Hockey
Born: November 8, 1919 in Toronto, Ontario
Height: 5'8"
Weight: 170 pounds
Milestones:
1944-45 – Shawinigan Cataractes
1945-46 – Sherbrooke Randies
1946-49 – Sherbrooke St. Francis
1949-53 – Quebec Aces
1953-54 – Owen Sound Mercurys
1955 – Established the Future Aces Hockey School
1977, 1978 – Canadian Seniors Golf champion
1987 – Established the Herbert H. Carnegie Future Aces Foundation
2003 – Named to the Order of Canada
Herb Carnegie (1919-2012) is one of the greatest hockey players never to play in the National Hockey League. He was the son of Jamaican parents and grew up practising his hockey skills on icy ponds in Toronto. Carnegie was noticed at the age of 18 by Conn Smythe, the owner of the Toronto Maple Leafs. It was said that Smythe would have considered signing Carnegie if it were not for the race barrier that existed then in professional hockey. Carnegie continued to pursue his dreams elsewhere, moving to northern Ontario in the 1940s. Playing alongside his brother Ossie, and Manny McIntyre, the three made up the first all-Black line in semi-professional hockey. The trio became known as the Black Aces, and played in the Quebec Provincial League. Carnegie retired from playing hockey in 1954. The following year, he started the Future Aces Hockey School. In 1987, he established the Herbert H. Carnegie Future Aces Foundation that provides scholarships to deserving youth.
"I'd loved the game since I was 7½ … We'd play all day on ponds in Willowdale, then listen on the radio to Foster Hewitt and Hockey Night in Canada. I wanted to be a Maple Leaf." – Carnegie to The Globe and Mail in 2006
Learn more about the Herbert H. Carnegie Future Aces Foundation on their website.
Watch an Inside Hockey interview with Herbert Carnegie here: