John Boyd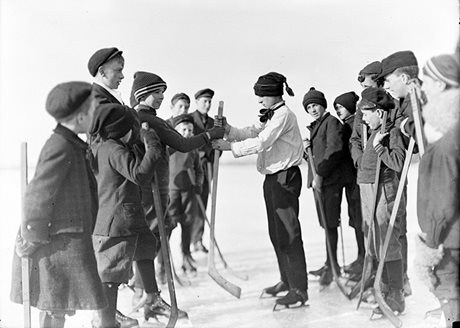 Statistics:
Art: Photography
Born: December 1865 in Emyvale, Ireland
Milestones:
1888 – Made his own camera
1894 – Became Chief Clerk for the Grand Trunk Railway
1918 – Worked for the Canadian National Railway's Weighing Department
Boyd photography collections:
Library and Archives Canada – 28,959
Archives of Ontario – 4,380
City of Toronto Archives – 2,422
John Boyd was an amateur photographer who captured memorable sporting scenes across the province. Born in 1865, Boyd's family immigrated to Toronto from Ireland when he was a child. He left school at the age of 15 and took a job with the Grand Trunk Railway as a messenger. The position with the railway provided him with a chance to travel around Ontario with his camera in hand. He took thousands of photographs that focused on everyday life scenes, which included people playing hockey and curling, skating, tobogganing, swimming, canoeing and skiing. His photographs provide a time capsule of early-20th century recreational activities around Ontario.

Photo gallery
Credit: Photo courtesy of the Archives of OntarioPlaying Hockey on the St. Clair River in Sarnia. Credit: John Boyd

Credit: Photo courtesy of the Archives of OntarioCurling in Toronto's High Park, 1913. Credit: John Boyd