Syl Apps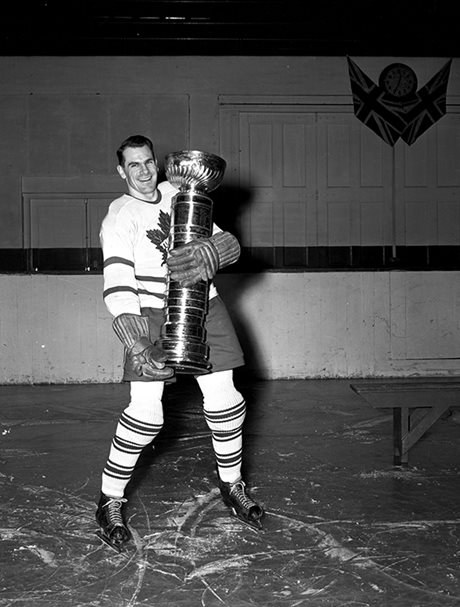 Statistics:
Sport: Hockey
Born: January 18, 1915 in Paris, Ontario
Height: 6'0"
Weight: 185 pounds
Achievements:
1934 – Pole vaulting champion at the British Empire Games
1936-48 – Played with the Toronto Maple Leafs
1936-37 – Calder Trophy winner
1941-42 – Lady Byng Memorial Trophy winner
1942, 1947-48 – Won three Stanley Cups
1963-74 – Member of Parliament for Kingston
1977 – Named to the Order of Canada
Charles Joseph Sylvanus "Syl" Apps (1915-98) was a professional hockey player, businessman and politician. Throughout his life, Apps displayed remarkable breadth in his abilities and accomplishments. He was a varsity football star and as a pole vaulter, won two national championships and competed at the 1936 Berlin Olympics. During an extraordinary 10-season hockey career with the Toronto Maple Leafs, Apps was renowned for his skill and impeccable sportsmanship. He was the Leafs' captain for six seasons and led them to three Stanley Cups. During the Second World War, Apps left the team for two years to serve in the Canadian Army. After retiring from hockey in 1948, he pursued a successful career in business and was elected to the Legislative Assembly of Ontario for Kingston in 1963 – a seat he held until his retirement in 1974. Apps believed in hard work, respect for others, loyalty, family and faith – and he upheld these values throughout his life.
"Figure out what game you are playing; learn the rules; hone your skills and play it well."