The Flying Frenchmen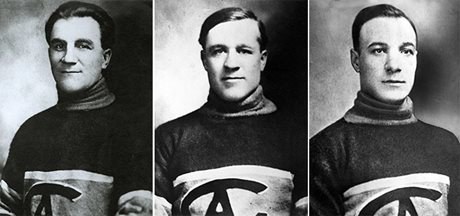 Statistics:
Sport: Hockey
Team formation: 1909
Achievements:
1915-16 – Won their first Stanley Cup
1917 – Formation of the National Hockey League (NHL)
1950 – Lalonde inducted into the Hockey Hall of Fame
1962 – Laviolette and Pitre inducted into the Hockey Hall of Fame
The Flying Frenchmen, as they came to be called in English, were three Franco-Ontarian professional hockey players who helped found the original Le Club de Hockey Le Canadien that would later become the Montreal Canadiens (in 1917), a team that would gain a legendary reputation in professional hockey. The leading offensive lineup included Jack Laviolette (1879-1960) from Belleville, Ontario; Edouard Charles "Newsy" Lalonde (1887-1970) from Cornwall, Ontario; and Didier "Cannonball" Pitre (1883-1934) from Sault Ste. Marie, Ontario. John Ambrose O'Brien had a desire to form a francophone team, to boost interest and support for hockey among French Canadians. Laviolette was the first player recruited for the team and served as captain, coach and team manager. The Canadiens played their first game in January 1910. In the 1915-16 season, the team won their first Stanley Cup with Laviolette, Lalonde and Pitre forming the forward line. They established the Canadiens trademark style of high-tempo playing distinguished by speed and finesse that so impressed the English sports writers that they began calling the Canadiens The Flying Frenchmen.